cheer

cheer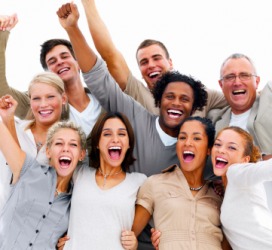 A group of people in good cheer.
noun
The definition of cheer is joy and gladness, or anything that is comforting.

An example of cheer is a visibly happy person.
An example of cheer is someone bringing a sad friend their favorite ice cream.
verb
Cheer means to comfort, encourage or bring joy.

An example of cheer is giving your spouse a foot rub after a hard day.
An example of cheer is clapping and shouting while a friend is competing.
---
cheer
state of mind or of feeling; mood; spirit: now usually in such phrases as

be of good cheer

and

with good cheer

gaiety; gladness; joy
festive entertainment, esp. with food and drink
anything that comforts or gladdens one; encouragement

a glad, excited shout used to urge on, welcome, approve, etc.
a jingle, rallying cry, etc. shouted in unison in rooting for a team

Archaic

facial expression
Origin of cheer
Middle English
chere
, the face, demeanor, bearing, mood from Old French
chiere
from Late Latin
cara
, head from Classical Greek
kara
from Indo-European base an unverified form
?er-
, head, horn; modern senses from phrase good cheer (Fr
bonne chère
)
to fill with joy, good spirits, and hope; gladden; comfort: often with up
to urge on or encourage by cheers
to greet or applaud with cheers
to be or become cheerful; feel encouraged: usually with up
to shout cheers
---
cheer
noun
a. A shout of approval, encouragement, or congratulation: a remark that drew cheers from the crowd.

b. A short, rehearsed jingle or phrase, shouted in unison by a squad of cheerleaders.

Comfort or encouragement: a message of cheer.
Lightness of spirits or mood; gaiety or joy: a happy tune, full of cheer.
Festive food and drink; refreshment: did not refrain from sampling their holiday cheer.
verb
cheered, cheer·ing, cheers
verb
intransitive
a.

To shout cheers. See Synonyms at

applaud

.

b. To express praise or approval: Bloggers cheered when the favorable decision was announced.

To become cheerful: had lunch and soon cheered up.
verb
transitive
a.

To encourage with cheers:

The fans cheered the runners on.

See Synonyms at

encourage

.

b. To salute or acclaim with cheers; applaud.

c. To express praise or approval for; acclaim: cheered the results of the election.

To make happier or more cheerful: a warm fire that cheered us.
Origin of cheer
Middle English
chere
expression, mood
from
Old French
chiere
face
from
Late Latin
cara
from
Greek
kara
head
; see
ker-
1
in Indo-European roots.
Related Forms:
---
cheer

Noun
(countable and uncountable, plural cheers)
1603, John Florio, translating Michel de Montaigne, Essays, I.50:

Heraclitus taking pitie and compassion of the very same condition of ours, was continually seene with a sad, mournfull, and heavie cheere [transl. visage], and with teares trickling downe his blubbered eyes.

(uncountable) A cheerful attitude; gaiety; mirth. [from 14th c.]
That which promotes good spirits or cheerfulness; provisions prepared for a feast; entertainment.

a table loaded with good cheer

A cry expressing joy, approval or support such as "hurray". [from 18th c.]

A cheer rose from the crowd.
Verb
(third-person singular simple present cheers, present participle cheering, simple past and past participle cheered)
To infuse life, courage, animation, or hope, into; to inspirit; to solace or comfort.
(intransitive) To applaud or encourage with cheers or shouts.

The crowd cheered in support of the athletes.
The crowd cheered the athletes.
See also:
çheer
---