verb
The definition of applaud is to show approval or praise, usually with hand clapping.

Giving a standing ovation for a performer is an example of to applaud.
YourDictionary definition and usage example. Copyright © 2013 by LoveToKnow Corp.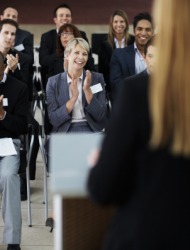 A group applauding a speaker.
Licensed from iStockPhoto
---
transitive verb
,
intransitive verb
to show approval or enjoyment (of) by clapping the hands or by cheering, stamping the feet, etc.
to praise; approve; commend
Origin: Classical Latin applaudere ; from ad-, to plush plaudere, to clap hands, strike
Webster's New World College Dictionary
Copyright © 2010 by Wiley Publishing, Inc., Cleveland, Ohio.
Used by arrangement with John Wiley & Sons, Inc.
---
verb
ap·plaud·ed
,
ap·plaud·ing
,
ap·plauds
verb
, intransitive
To express approval, especially by clapping the hands.
verb
, transitive
To express approval of (someone or something) especially by such clapping.
To commend highly; praise: applauded her decision to complete her degree.
Origin: Middle English applauden, from Latin applaudere : ad-, ad- + plaudere, to clap.
Related Forms:
The American Heritage® Dictionary of the English Language
, 4th edition Copyright © 2010 by Houghton Mifflin Harcourt Publishing Company. Published by Houghton Mifflin Harcourt Publishing Company. All rights reserved.