rejoice

re·joice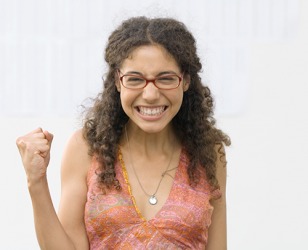 Eliana rejoiced when she aced the Chemistry exam.
verb
To rejoice is to feel great happiness or joy, or to take great pleasure in something.

When you feel great pleasure after you have had a baby, this is an example of a time where you rejoice.
---
rejoice
intransitive verb
-·joiced′

,

-·joic′ing
to be glad, happy, or delighted; be full of joy: often with at or in
Origin of rejoice
Middle English
rejoissen
from inflectional stem of Old French
rejoïr
from
re-,
again +
joïr,
to be glad from Vulgar Latin an unverified form
gaudire,
for Classical Latin
gaudere,
to rejoice: see joy
Archaic
to make glad; delight
---
rejoice
verb
re·joiced, re·joic·ing, re·joic·es
verb
intransitive
To feel joyful; be delighted: rejoiced at the news; rejoiced in her friend's good fortune.
verb
transitive
To feel joyful about (something): rejoiced that the ship reached land.
Archaic To fill with joy; gladden.
Phrasal Verbs:
rejoice in
To have or possess:
rejoices in a keen mind.
Origin of rejoice
Middle English
rejoicen
from
Old French
rejoir
rejoiss-
re-
re-
joir
to be joyful
(
from
Vulgar Latin
gaudīre
) (
from
Latin
gaudēre
; see
gāu-
in Indo-European roots.)
Related Forms:
---
rejoice

Verb
(third-person singular simple present rejoices, present participle rejoicing, simple past and past participle rejoiced)
(intransitive) To be very happy, be delighted, exult; to feel joy. [from 14th c.]
To make happy, exhilarate. [from 15th c.]
Origin
From Old French resjoir, (Modern French réjouir)
---