noun
The definition of lament is an expression of loss, sometimes through artistic expression.

An example of a lament is The Book of Lamentations in the Old Testament of the Bible.
verb
Lament is defined as to feel loss, sorrow or regret, often expressed in a physical way.

An example of lament is to feel sad and cry at a funeral.
An example of lament is to wish you would have done something different with your life.
YourDictionary definition and usage example. Copyright © 2013 by LoveToKnow Corp.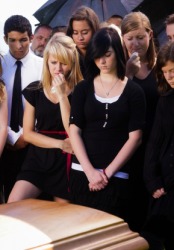 People lamenting the loss of a loved one.
Licensed from iStockPhoto
---
intransitive verb
to feel deep sorrow or express it as by weeping or wailing; mourn; grieve
Origin: Fr lamenter from Classical Latin lamentari from lamentum, a mourning, wailing from Indo-European echoic base an unverified form lā- from source Armenian lam, I weep
transitive verb
to feel or express deep sorrow for; mourn or grieve for
to regret deeply
noun
an outward expression of sorrow; lamentation; wail
a literary or musical composition, as an elegy or dirge, mourning some death or calamity
Webster's New World College Dictionary
Copyright © 2010 by Wiley Publishing, Inc., Cleveland, Ohio.
Used by arrangement with John Wiley & Sons, Inc.
---
verb
la·ment·ed
,
la·ment·ing
,
la·ments
verb
, transitive
To express grief for or about; mourn: lament a death.
To regret deeply; deplore: He lamented his thoughtless acts.
verb
, intransitive
To grieve audibly; wail.
To express sorrow or regret. See Synonyms at grieve.
noun
A feeling or an expression of grief; a lamentation.
A song or poem expressing deep grief or mourning.
Origin: Middle English lementen, from Old French lamenter, from Latin lāmentārī, from lāmentum, lament.
Related Forms:
The American Heritage® Dictionary of the English Language
, 4th edition Copyright © 2010 by Houghton Mifflin Harcourt Publishing Company. Published by Houghton Mifflin Harcourt Publishing Company. All rights reserved.