poem

po·em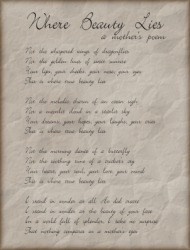 An example of a poem.
noun
The definition of a poem is a collection of words that express an emotion or idea, sometimes with a specific rhythm.

An example of a poem is the children's rhyme, Mary Had a Little Lamb.
---
poem
an arrangement of words written or spoken: traditionally a rhythmical composition, sometimes rhymed, expressing experiences, ideas, or emotions in a style more concentrated, imaginative, and powerful than that of ordinary speech or prose: some poems are in meter, some in free verse
anything suggesting a poem in its effect
Origin of poem
Middle French
poeme
from Classical Latin
poema
from Classical Greek
poi?ma
, anything made, poem from
poiein
, to make from Indo-European base an unverified form
kwei-
, to heap up, build, make from source Sanskrit
cin?ti
, (he) arranges, Old Church Slavonic
?initi
, to arrange, form
---
poem
noun
A verbal composition designed to convey experiences, ideas, or emotions in a vivid and imaginative way, characterized by the use of language chosen for its sound and suggestive power and by the use of literary techniques such as meter, metaphor, and rhyme.
A composition in verse rather than in prose: wrote both prose and poems.
A literary composition written with an intensity or beauty of language more characteristic of poetry than of prose.
Origin of poem
French
poème
from
Old French
from
Latin
poēma
from
Greek
poiēma
from
poiein
to create
; see
kwei-
2
in Indo-European roots.
---
poem

Origin
From Latin poÄ"ma, from Ancient Greek ποίημα (poiÄ"ma), from ποιέω (poiÄ"o, "I make").
---