rune

rune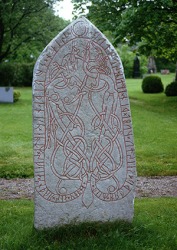 An example of Viking runes carved on a runestone in Sweden.
noun
The definition of a rune is any of the characters in the ancient Germanic alphabet or a stone with those characters on them.

An example of a rune is a zig zagged line that means sun.
An example of a rune is a stone used to divine answers.
---
rune
any of the characters of an alphabet (futhark) probably derived from a Greek script and used by the Scandinavians and other early Germanic peoples from about 300
[often pl.] something inscribed or written in such characters

a Finnish or Old Norse poem or canto

Old Poet.

any poem, verse, or song, esp. one that is mystical or obscure
Origin of rune
Middle English
roun
from Old English
run,
secret, mystery, runic character; readopted in the 17th circa in form of Old Norse
r?n:
both from Indo-European echoic base an unverified form
reu-,
hoarse sound, roar, grumble from source Welsh
rhin
, secret, Classical Latin
raucus,
hoarse; in runesense from Finnish
runo,
poem, canto from Old Norse
r?n
---
rune
noun
a. Any of the characters in several alphabets used by ancient Germanic peoples from the 3rd to the 13th century.

b. A similar character in another alphabet, sometimes believed to have magic powers.

A poem or incantation of mysterious significance, especially a magic charm.
Origin of rune
Old Norse
or
Old English
rūn
Word History:
Among early peoples writing was a serious thing, full of magical power. In its only reference to writing, the
Iliad
calls it "baneful signs." The Germanic peoples used a runic alphabet as their form of writing, using it to identify combs or helmets, make calendars, encode secret messages, and mark funeral monuments. Runes were also employed in casting spells, as to gain a kiss from a sweetheart or to make an enemy's gut burst. In casting a spell the writing of the runes was accompanied by a mumbled or chanted prayer or curse, also called a
rune,
to make the magic work. These two meanings also appear in Old English
rūn,
the ancestor of our word. The direct descendants of Old English
rūn
are the archaic verb
round,
"whisper, talk in secret," and the obsolete noun
roun,
"whispering, secret talk." The use of the word to refer to inscribed runic characters was revived by Danish writers who adopted it from Old Norse toward the end of the 1600s and used it in discussions of Germanic antiquities.
rune1
detail of inscribed runes
on a stone
near Källby, Sweden
noun
A Finnish poem or section of a poem.
Origin of rune
Finnish
runo
of Germanic origin
---
rune

Noun
(plural runes)
A letter, or character, belonging to the written language of various ancient Germanic peoples, especially the Scandinavians and the Anglo-Saxons.
A Finnish poem, or a division of one, especially a division of the Kalevala.
Any verse or song, especially one with mystical or mysterious overtones; an incantation.
---