requiem

req·ui·em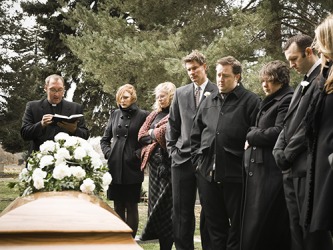 The best friend of the deceased recited a requiem that was eloquent and heartfelt.
noun
The definition of a requiem is a song, chant or poem for someone who died.

An example of a requiem is Mozart's Requiem in D Minor.
---
Requiem
R.C.Ch.

a Mass for one or more deceased persons
a musical setting for this; also, any musical service, hymn, or dirge for the dead
any dirgelike song, chant, or poem
Origin of Requiem
Middle English from L, accusative of
requies,
rest (see re- and quiet): first word of the Introit in the Latin Mass for the Dead
---
requiem
noun
Requiem Roman Catholic Church

a. A mass for a deceased person.

b. A musical composition for such a mass.

A hymn, composition, or service for the dead.
Origin of requiem
Middle English
from
Latin
accusative of
requiēs
rest, the first word of the mass for the dead
re-
re-
quiēs
quiet
; see
kweiə-
in Indo-European roots.
---
requiem

Usage notes
The Latin Introit, or opening prayer, for a requiem mass starts with the words:
Requiem aeternam dona eis, Domine, et lux perpetua luceat eis.
"Grant them eternal rest, Lord, and may everlasting light shine upon them."
---