service

ser·vice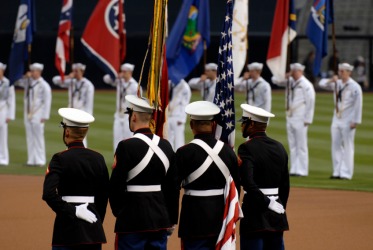 These men are in the service.
adjective
The definition of service is someone or something that has to do with the armed forces.

An example of service is a man or woman who is a US Marine.

Service is defined as someone or something that is intended to provide help to those providing assistance to others.

An example of service is an elevator in a hotel that is meant to be used by hotel staff.
noun
Service is the armed military.

An example of service is the US Navy.

Service is work done for others or repairs provided.

An example of service is a bartender providing a cocktail to someone.
An example of service is a mechanic fixing the brakes on a truck.

The definition of a service is a formal or religious program.

An example of a service is a funeral.
An example of a service is a Shabbat gathering at a synagogue.
An example of a service is a Sunday church meeting.
verb
Service is defined as to repair, maintain or provide something to someone.

An example of service is to fix a broken washing machine.
An example of service is to provide appetizers to a group of people at a restaurant.
---
service
the occupation or condition of a servant

employment, esp. public employment: diplomatic service
a branch or department of this, including its personnel; specif., the armed forces, as army, navy, or air force

work done for a master or feudal lord
work done or duty performed for another or others: repair service, public service

the serving of God, as through good works, prayer, etc.

public worship
any religious ceremony: the marriage service
[sometimes pl.] a similar, but nonreligious, ceremony, as for a burial or marriage: graveside services
a musical setting for a religious service

an act giving assistance or advantage to another
the result of this; benefit; advantage
[pl.] friendly help; also, professional aid or attention: the fee for his services

the act or manner of serving food: a restaurant noted for its fine service
a set of utensils or articles used in serving: silver tea service
a system or method of providing people with the use of something, as electric power, water, transportation, mail delivery, etc.
installation, maintenance, repairs, etc., provided by a dealer or manufacturer to purchasers of equipment
the act or manner of serving the ball in tennis, etc., or one's turn to serve

Archaic

devotion, as of a lover to his lady

Animal Husbandry

the act of bringing a male animal to copulate with a female

Law

notification of legal action, as by the serving of a writ

Naut.

any material, as wire, used in serving (ropes, etc.)
Origin of service
Middle English
servise
from Old French from Classical Latin
servitium
, servitude from
servus
, slave: see serf
of, for, or in service; specif.,

of or relating to the armed forces
providing repair, maintenance, supplies, etc.
providing services, rather than goods

of, for, or used by servants, tradespeople, etc.: a service entrance

for use during active service: a service uniform
serviceable; durable: service weight stockings
transitive verb
-·iced

,

-·ic·ing
to furnish with a service
to copulate with (a female): said of a male animal
to make or keep fit for service, as by inspecting, adjusting, repairing, refueling, etc.
to make the periodic interest payments on (a debt)
at someone's service
ready to serve or cooperate with someone
ready for someone's use
in service
in use; functioning: said esp. of an appliance, vehicle, etc.
in the armed forces
working as a domestic servant
Service
1874-1958; Cdn. verse writer, born in England
---
service
noun
a. Work that is done for others as an occupation or business: has done service for us as a consultant.

b. The performance of work or duties for a superior or as a servant: found the butler's service to be excellent.

c. An act or a variety of work done for others, especially for pay: offers a superior service to that of his competitors; provides full catering services.

a. Assistance; help: was of great service to him during his illness.

b. An act of assistance or benefit; a favor: My friend did me a service in fixing the door.

a. The serving of food or the manner in which it is served: The service was good, but the food was lousy.

b. A set of dishes or utensils: a silver tea service.

a. Employment in duties or work for another, as for a government: has been in the company's service for 15 years.

b. A government branch or department and its employees: the diplomatic service.

c. A department or branch of a hospital staff that provides specified patient care: the anesthesiology service.

a. The armed forces of a nation: joined the service right after college.

b. A branch of the armed forces of a nation.

a. The installation, maintenance, or repairs provided or guaranteed by a dealer or manufacturer: a dealer with full parts and service.

b. The provision to the public of something, especially a utility: a town without sewer service.

c. The system or equipment used to provide something to the public: The electrical service was damaged in the storm.

Sports

a. The right of serving in many court games.

b. A serve: Her first service hit the net.

A religious rite or formal ceremony: held services in the evening; a memorial service.
Copulation with a female animal. Used of male animals, especially studs.
Law The serving of a legal process, such as a summons or court order.
The material, such as cord, used in binding or wrapping rope.
An answering service.
transitive verb
ser·viced, ser·vic·ing, ser·vic·es
To make fit for use; adjust, repair, or maintain: service a car.
To provide services to: That cable company services most households in the area.
To make interest payments on (a debt).

a. To copulate with (a female animal). Used of a male animal, especially studs.

b. Slang To have sex with.
adjective
Of or relating to the armed forces of a country.
Intended for use in supplying or serving: a service elevator; the service entrance.
Offering repairs or maintenance: a service guarantee; a road service area.
Offering services to the public in response to need or demand: a service industry.
Origin of service
Middle English
from
Old French
from
Latin
servitium
slavery
from
servus
slave
Usage Note: The verb service is used principally in the sense "to repair or maintain": service the washing machine. Exceptions to this usage include specialized senses in finance (service a debt) and animal breeding (service a mare). Serve means "to supply goods or services to," as in One radio network serves three states.
---
service

Usage notes
In British English, the indefinite article "a" is often used with "good service", as in "A good service is operating on all London Underground lines," while this is not used in American English.
Verb
(third-person singular simple present services, present participle servicing, simple past and past participle serviced)
To serve.

They service the customer base.

To perform maintenance.

He is going to service the car.

(agriculture, euphemistic) To inseminate through sexual intercourse
(vulgar) To perform a sexual act.

He was going to service her.
Origin
From Old French servise (French: service).
Noun
(plural services)
service tree
---
service - Computer Definition

From the Latin servitium, meaning slavery, referring to a person or device with the function of giving good by providing usefulness to others. A service is something done by a person or device for the benefit of another. A service may be provided for a fee or for free.Think of this book as providing a feebased service. Please do not make copies of this book, as that would destroy the profit motive, which largely is why I wrote this monster. It also would violate my copyright, which would anger me greatly. See also copyright.
---
(1) Functionality delivered by a cloud computing provider. See XaaS and cloud computing.
(2) Functionality derived by running software. For example, network services may refer to programs that transmit data or provide conversion of data in a network. Database services provide for the storage and retrieval of data in a database. Web services are applications that interact with each other on the Internet (see Web services).
---
service - Legal Definition
n
The formal delivery of a subpoena, writ, or other legal notice or process.
The doing of something useful or helpful for another individual or for a company in exchange for a fee.
The time spent in the military, as in, "in the service of one's country."
service by publication
A publication of a notice in a newspaper or other publication in lieu of personal service. In some jurisdictions, the mailing of the news clipping to the last known address of the person is required.
substituted service by
A presenting of service to a recognized agent of the party or by mailing notice to that party or any other way permitted by law other than personal service.
---