injury
in·ju·ry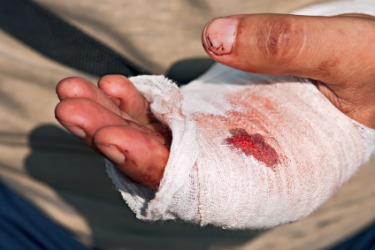 This person has an injury to their hand.
noun
Injury is defined as harm to a person or thing.

An example of an injury is breaking your leg in a soccer game.
An example of an injury is hurting someone's reputation.
---
injury
pl.
-·ries
physical harm or damage to a person, property, etc.
an injurious act; specif.,

an offense against a person's feelings, dignity, etc.
loss in value inflicted on a business, reputation, etc.
a violation of rights; wrong

Obs.

an insult
Origin of injury
Middle English
iniurie
; from Classical Latin
injuria
; from
injurius
, wrongful, unjust ; from
in-
, not +
jus
(gen.
juris
), right, justice: see just
---
injury
noun
pl.
in·ju·ries
Damage or harm done to or suffered by a person or thing: escaped from the accident without injury; a scandal that did considerable injury to the campaign.
A particular form of hurt, damage, or loss: a leg injury.
Law Violation of the rights of another party for which legal redress is available.
Obsolete An insult.
Origin of injury
Middle English
injurie
, from Anglo-Norman, from Latin
ini&umacron;ria
,
a wrong, injustice
, from feminine of
ini&umacron;rius
,
unjust
:
in-
,
not
; see
in–
1
+
i&umacron;s, i&umacron;r-
,
law
; see
yewes-
in Indo-European roots.
---
injury
See also pain.
lapidation
the process or act of pelting with stones, sometimes as a form of execution.
octogild
Anglo-Saxon Law.
payment for an injury, calculated at eight times its real or estimated value.
traumatism
1
. any abnormal condition, either pathological or psychological, caused by wound or injury, either physical or psychological.
2
. the trauma, wound, or injury itself.
—traumatic
,
adj.
---
injury
Noun
(plural injuries)
damage to the body of a human or animal

The passenger sustained a severe injury in the car accident.

violation of a person, their character, feelings, rights, property, or interests

Slander is an injury to the character.

(archaic) injustice
Verb
(third-person singular simple present injuries, present participle injurying, simple past and past participle injuried)
Origin
From Anglo-Norman injurie, from Latin iniūria ("injustice; wrong; offense"), from in- ("not") + iūs, iūris ("right, law").
---
injury - Legal Definition
n
A violation of rights, or harm inflicted on an individual, for which damages or relief may be sought in court.
---