noun
The definition of a hymn is a religious song or song of praise, especially a song sung during Christian worship.

Amazing Grace is an example of a hymn.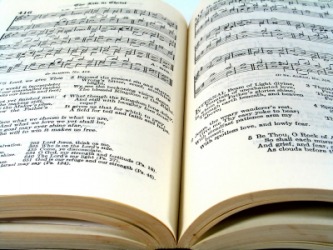 An open book of hymns.
---
hymn definition by Webster's New World
noun
a song in praise or honor of God, a god, or gods
any song of praise or glorification
Origin: Middle English ymen ; from Old English ymen and amp; Old French ymne, both ; from Late Latin (Ec) hymnus ; from Classical Greek hymnos, a hymn, festive song, ode
transitive verb
to express or praise in a hymn
intransitive verb
to sing a hymn
Webster's New World College Dictionary Copyright © 2010 by Wiley Publishing, Inc., Cleveland, Ohio. Used by arrangement with John Wiley & Sons, Inc.
---
hymn definition by American Heritage Dictionary
noun
A song of praise or thanksgiving to God or a deity.
A song of praise or joy; a paean.
verb
hymned
,
hymn·ing
,
hymns
verb
, transitive
To praise, glorify, or worship in or as if in a hymn.
verb
, intransitive
To sing hymns.
Origin: Middle English imne, from Old French ymne, from Latin hymnus, song of praise, from Greek humnos.