pine

pine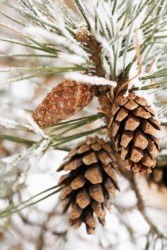 Pinecones on a pine tree.
noun
Pine is defined as the needles, cones or wood of Pinus evergreen trees.

An example of a pine is a frequent choice for Christmas trees.
verb
Pine is defined as to want something strongly, or to waste away from sadness.

An example of to pine is to lust after a person.
An example of to pine is to lay in bed every day for a year after a loved one passes away, losing weight and being depressed.
---
pine
any of a genus (Pinus) of evergreen trees of the pine family, with hard, woody cones and bundles of two to five needle-shaped leaves; many pines are valuable for their wood and their resin, from which turpentine, tar, etc. are obtained
the wood of such a tree
the odor of pine trees, or a synthetic odor resembling this, often used to scent deodorizers, cleaning solutions, etc.
pineapple
Origin of pine
Middle English from Old English
pin
from Classical Latin
pinus
, pine tree from Indo-European an unverified form
pitsnus
from base an unverified form
pi-,
fat from source Classical Latin
pix,
pitch, Old English
fæted,
fat
designating a family (Pinaceae) of conifers having needlelike leaves and, usually, woody cones and valuable wood, including the larches, spruces, firs, and hemlocks
intransitive verb
pined

,

pin′ing
to waste (away) through grief, pain, longing, etc.
to have an intense longing or desire; yearn: with for, after, or an infinitive
Origin of pine
Middle English
pinen
from Old English
pinian,
to torment from
pin,
pain from Classical Latin
poena:
see penal
---
pine
noun
Any of various evergreen trees of the genus Pinus, having fascicles of needle-shaped leaves and producing woody seed-bearing cones. These trees are widely cultivated for ornament and shade and for their timber and resinous sap, which yields turpentine and pine tar.
Any of various other coniferous trees, such as the Norfolk Island pine.
The wood of any of these trees.
Origin of pine
Middle English
from
Old English
pīn
from
Latin
pīnus
; see
peiə-
in Indo-European roots.
verb
pined, pin·ing, pines
verb
intransitive
To feel a lingering, often nostalgic desire.
To wither or waste away from longing or grief: pined away and died.
verb
transitive
Archaic
To grieve or mourn for.
noun
Archaic
Intense longing or grief.
Origin of pine
Middle English
pinen
from
pine
suffering
from
Old English
pīne
punishment, torment
from
Vulgar Latin
pēna
variant of
Latin
poena
penalty
from
Greek
poinē
; see
kwei-
1
in Indo-European roots.
---
pine

---