naked

na·ked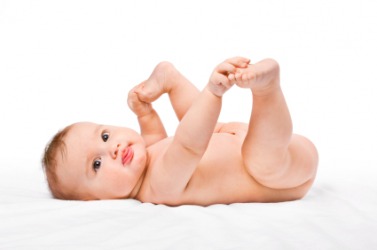 A cute naked baby.
adjective
The definition of naked is having no clothes on, or without protection, or without ornaments.

An example of a naked person is someone wearing absolutely no clothing.
An example of the naked truth is the facts without any comments.
---
naked
completely unclothed; bare; nude
uncovered; exposed: said of parts of the body

lacking clothing, means of support, etc.; destitute
without protection or defense
without conventional or usual covering; specif.,

out of its sheath: a naked sword
without grass, vegetation, etc.
without furnishing, decoration, etc.: a naked wall

without additions, ornaments, disguises, or embellishments; plain; stark: the naked truth
without the aid of a microscope, telescope, etc.: the naked eye

Bot.

without leaves, corolla, ovary, perianth, etc.

Law

lacking a necessary condition; invalid: a naked contract

Zool.

without hair, scales, feathers, shell, etc.
Origin of naked
Middle English from Old English
nacod
, akin to German
nackt
from Indo-European base an unverified form
nogw-
, naked from source Sanskrit
nagná-
, Classical Latin
nudus
---
naked
adjective
Having no clothing on the body; nude.
Having no covering, especially the usual one: a naked sword.
Devoid of vegetation, trees, or foliage: the naked ground; naked tree limbs.
Being without addition, concealment, disguise, or embellishment: the naked facts; naked ambition.
Devoid of a specified quality, characteristic, or element: a look that was naked of all pretense.
Exposed to harm; vulnerable: "naked to mine enemies" ( Shakespeare )
Botany

a. Not enclosed in an ovary: naked seeds.

b. Unprotected by scales: naked buds.

c. Lacking a perianth: naked flowers.

d. Without leaves or pubescence: naked stalks.

Zoology Lacking outer covering such as scales, fur, feathers, or a shell.
Origin of naked
Middle English
from
Old English
nacod
; see
nogw-
in Indo-European roots.
Related Forms:
---
naked

---
naked - Computer Definition
---
naked - Investment & Finance Definition
Undertaking either a long or short market position without having an offsetting short or long position.
Executing one side of a spread without executing the other side.
Writing an options contract without owning the underlying investment.
---