hidden
[hid′'n]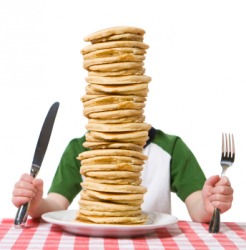 This mans face is hidden by a stack of pancakes.
adjective
The definition of hidden is concealed.

An example of hidden is something that's been put in the very back of a drawer and is hard to see.
An example of hidden is a bald head under a toupee.
---
hidden
transitive verb
,
intransitive verb
hide
Origin of hidden
Middle English for Old English
gehydd
adjective
concealed; secret
---
hidden
verb
A past participle of
hide
1
.
---
hidden
Verb
past participle of hide
Adjective
(comparative more hidden, superlative most hidden)
Invisible or unapparent.
That has been hidden.

hidden treasure
hidden talents
---
hidden - Computer Definition
---
hidden
Variant of hide
transitive verb
hid, hidden or hid, hiding
to put or keep out of sight; secrete; conceal
to conceal from the knowledge of others; keep secret: to hide one's identity
to keep from being seen by covering up, obscuring, etc.: fog hid the road
to turn away: to hide one's head in shame
Origin of hide
Middle English
hiden
; from Old English
hydan
; from Indo-European an unverified form
(s)keudh-
(from source Classical Greek
keuthein
, to hide) ; from base an unverified form
(s)keu-
, to cover from source hide, sky, Classical Latin
cutis
, skin
intransitive verb
to be or lie out of sight or concealed
to keep oneself out of sight; conceal oneself
noun
Brit.
a place of concealment for an observer of wildlife, hunter, etc.