adjective
Bare is defined as a lack of clothing or refers to something that is empty of its usual contents.

When you have no shoes or socks on your feet, that is an example of bare feet.
An unfurnished apartment is an example of a bare apartment.

The definition of bare is something that is just enough without anything extra.

Giving the facts without any opinions, explanations, or extra details is an example of giving the bare facts.
verb
To bare means to take away something that was covering something else.

To take a hat off of your head is an example of bare.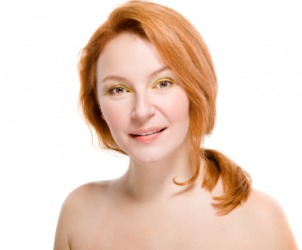 A woman with bare shoulders.
---
bare definition by Webster's New World
adjective
barer, barest
without the natural or customary covering: bare wooden floors
without clothing; naked: bare legs

without equipment, supplies, or furnishings; empty: a bare room, a bare larder
without embellishment; unadorned; simple; plain: the bare facts
without tools or weapons: obsolete except in bare hands
threadbare
no more than; mere: a bare subsistence wage
Origin: Middle English bar ; from Old English bær ; from Indo-European an unverified form bhoso-s ; from uncertain or unknown; perhaps base an unverified form bhes-, to rub off from source sand
transitive verb
,
intransitive verb
Webster's New World College Dictionary Copyright © 2010 by Wiley Publishing, Inc., Cleveland, Ohio. Used by arrangement with John Wiley & Sons, Inc.
---
bare definition by American Heritage Dictionary
adjective
bar·er
,
bar·est
Lacking the usual or appropriate covering or clothing; naked: a bare arm.
Exposed to view; undisguised: bare fangs.
Lacking the usual furnishings, equipment, or decoration: bare walls.
Having no addition, adornment, or qualification: the bare facts. See Synonyms at empty.
Just sufficient; mere: the bare necessities.
Obsolete Bareheaded.
transitive verb
bared
bared
,
bar·ing
,
bares
To make bare; uncover or reveal: bared their heads; baring secrets.
To expose: The dog bared its teeth.
Origin: Middle English bar, from Old English bǽr; see bhoso- in Indo-European roots.
Related Forms:
The American Heritage® Dictionary of the English Language, 4th edition Copyright © 2010 by Houghton Mifflin Harcourt Publishing Company. Published by Houghton Mifflin Harcourt Publishing Company. All rights reserved.
---
bare - Phrases/Idioms
lay bare
to open to view; uncover; expose