noun
The definition of a display is an exhibition or a show of something.

Paintings and craft items at an art show are an example of an art display.
verb
Display is defined as to show or make visible.

Setting up a Christmas tree in the middle of town is an example of a way to display.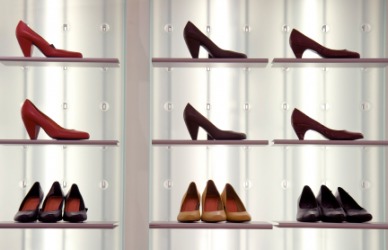 Shoes on display.
---
display definition by Webster's New World
transitive verb
Obsolete

to unfold; spread out; unfurl
to unfold to the eye; put or spread out so as to be seen; exhibit
to unfold to the mind; disclose; reveal
to print conspicuously, as in large or fancy type
Origin: Middle English displeien ; from Old French despleier ; from Classical Latin displicare, to scatter, unfold ; from dis-, apart plush plicare, to fold: see ply
noun
a displaying; exhibition
anything displayed; exhibit
showy exhibition; ostentation

a manifestation: a display of courage
a mere show of something that is not genuine: a display of sympathy

a visual representation of data, as on a computer video screen
adjective
designating printing type in larger sizes, used for headings, advertisements, etc.
Webster's New World College Dictionary Copyright © 2010 by Wiley Publishing, Inc., Cleveland, Ohio. Used by arrangement with John Wiley & Sons, Inc.
---
display definition by American Heritage Dictionary
verb
dis·played
,
dis·play·ing
,
dis·plays
verb
, transitive
a. To present or hold up to view.

b. Computer Science To provide (information or graphics) on a screen.

To give evidence of; manifest.
To exhibit ostentatiously; show off.
To be endowed with (an identifiable form or character): a shrub that displays hardiness.
To express, as by gestures or bodily posture: a smirk that displayed contempt.
To spread out; unfurl: The peacock displayed its fan.
verb
, intransitive
Computer Science To provide information or graphics on a screen: a personal computer that displays and prints.
noun
a. The act of displaying.

b. A public exhibition.

c. Objects or merchandise set out for viewing by the public.

A demonstration or manifestation: a display of temper.

a. Biology A specialized pattern of behavior used to communicate visually, such as the presentation of colors or plumage by male birds as part of courtship or intimidation.

b. An instance of such behavior.

Ostentatious exhibition.
An advertisement or headline designed to catch the eye.

a. Computer Science A video display.

b. A visual representation of information.
Origin: Middle English displayen, from Anglo-Norman despleier, from Medieval Latin displicāre, to unfold, from Latin, to scatter : dis-, apart; see dis- + plicāre, to fold; see plek- in Indo-European roots.
The American Heritage® Dictionary of the English Language, 4th edition Copyright © 2010 by Houghton Mifflin Harcourt Publishing Company. Published by Houghton Mifflin Harcourt Publishing Company. All rights reserved.
---
display - Computer Definition
(1) To show text and graphics on a CRT or flat panel screen.
(2) A screen or monitor.