noun
The definition of a parade is a moving display, particularly a public march.

An example of a parade is the Thanksgiving Day march through Manhattan.
verb
Parade is defined as to bring together for display, to walk around to display, or to march for military review.

An example of parade is to have bands, cars and floats march through a town.
An example of parade is to show off a new handbag around town.
An example of parade is for military forces to gather in formation for display.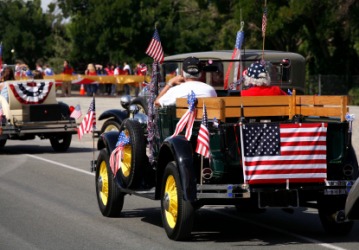 Vintage cars in a parade.
---
parade definition by Webster's New World
noun
ostentatious or pompous display

a military display or assembly; esp., a review of marching troops
a place where troops assemble regularly for parade; parade ground

any organized procession or march, as for display

a public walk or promenade
persons promenading or strolling

an ostentatious succession of persons or things: a parade of bestsellers
Origin: French ; from Spanish parada, a parade, place for the exercise of troops ; from parar, to stop (a horse), prepare ; from Classical Latin parare, prepare
transitive verb
paraded, parading
to bring together (troops, etc.) for inspection or display
to march or walk through, as for display: a band parading the streets
to make a display of; show off: to parade one's knowledge
intransitive verb
to march in a parade or procession
to walk about ostentatiously; show off
to assemble in military formation for review or display
Webster's New World College Dictionary Copyright © 2010 by Wiley Publishing, Inc., Cleveland, Ohio. Used by arrangement with John Wiley & Sons, Inc.
---
parade definition by American Heritage Dictionary
noun
a. An organized public procession on a festive or ceremonial occasion.

b. The participants in such a procession.

a. A regular place of assembly for reviews of troops. Also called parade ground.

b. A ceremonial review of troops.

c. The troops taking part in such a review.

A line or extended group of moving persons or things: a parade of strollers on the mall.
An extended, usually showy succession: a parade of fads and styles.
An ostentatious show; an exhibition: make a parade of one's talents. See Synonyms at display.
A public square or promenade.
verb
pa·rad·ed
,
pa·rad·ing
,
pa·rades
verb
, intransitive
To take part in a parade; march in a public procession: The circus performers and animals paraded down Main Street.
To assemble for a ceremonial military review or other exercise.
To stroll in public, especially so as to be seen; promenade.
To behave so as to attract attention; show off.
verb
, transitive
To cause to take part in a parade: paraded the floats past city hall.
To assemble (troops) for a ceremonial review.
To march or walk through or around: parade the campus.
To exhibit ostentatiously; flaunt: paraded their wealth. See Synonyms at show.
Origin: Probably French, action of stopping a horse, from Old Spanish parada, from Vulgar Latin *parāta, from feminine past participle of Latin parāre, to prepare; see perə-1 in Indo-European roots.
Related Forms:
The American Heritage® Dictionary of the English Language, 4th edition Copyright © 2010 by Houghton Mifflin Harcourt Publishing Company. Published by Houghton Mifflin Harcourt Publishing Company. All rights reserved.
---
parade - Phrases/Idioms