noun
The definition of demonstration is a proof or example of something.

When protesters get together to show their presence and support, this is an example of ademonstration.
When a child shows the class how his science project works, this is an example of ademonstration.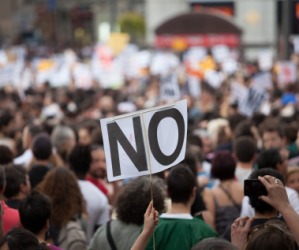 Protesters stage a demonstration.
---
demonstration definition by Webster's New World
noun
the act, process, or means of making evident or proving
an explanation by example, experiment, etc.
a practical showing of how something works or is used; specif., such a showing of a product in an effort to sell it
a display or outward show: a demonstration of grief
a public show of feeling or opinion, as by a mass meeting or parade
a show of military force or preparedness
a logical proof in which a certain conclusion is shown to follow from certain premises
Origin: Middle English demonstracion ; from Classical Latin demonstratio ; from demonstrare: see demonstrate
Webster's New World College Dictionary Copyright © 2010 by Wiley Publishing, Inc., Cleveland, Ohio. Used by arrangement with John Wiley & Sons, Inc.
---
demonstration definition by American Heritage Dictionary
noun
The act of showing or making evident.
Conclusive evidence; proof.
An illustration or explanation, as of a theory or product, by exemplification or practical application.
A manifestation, as of one's feelings.
A public display of group opinion, as by a rally or march: peace demonstrations.