demonstration
dem·on·stra·tion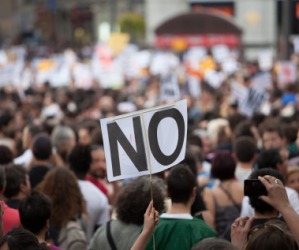 Protesters stage a demonstration.
noun
The definition of demonstration is a proof or example of something.

When protesters get together to show their presence and support, this is an example of a demonstration.
When a child shows the class how his science project works, this is an example of a demonstration.
---
demonstration
the act, process, or means of making evident or proving
an explanation by example, experiment, etc.
a practical showing of how something works or is used; specif., such a showing of a product in an effort to sell it
a display or outward show: a demonstration of grief
a public show of feeling or opinion, as by a mass meeting or parade
a show of military force or preparedness
a logical proof in which a certain conclusion is shown to follow from certain premises
Origin of demonstration
Middle English
demonstracion
from Classical Latin
demonstratio
from
demonstrare
: see demonstrate
---
demonstration
noun
a. The act or process of providing evidence for or showing the truth of something: a demonstration of the drug's efficacy; a demonstration of the theorem.

b. An illustration or explanation, as of a theory or product, by exemplification or practical application: a demonstration of ballroom dancing.

a. A piece of evidence: That car he bought is supposed to be a demonstration of his commitment to clean energy.

b. An expression or manifestation, as of one's feelings: a demonstration of her displeasure.

A public display of group opinion, as by a rally or march: peace demonstrations.
---
demonstration

Noun
(plural demonstrations)
The act of demonstrating; showing or explaining something.
An event at which something will be demonstrated.

I have to give a demonstration to the class tomorrow, and I'm ill-prepared.

A public display of group opinion.
A show of military force.
Origin
From Old French demonstration, from Latin demonstrationem, from demonstrare ("show or explain"), from de- ("of or concerning") + monstrare ("show").
---