evidence

ev·i·dence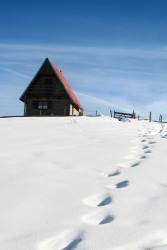 These footprints are evidence that someone has walked here.
noun
Evidence is defined as something that gives proof or leads to a conclusion.

The suspect's blood at the scene of a crime is an example of evidence.
The footprints in the house are an example of evidence that someone came inside.
verb
The definition of evidence is to show proof.

An example of evidence is to present research to prove the benefits of a new drug.
---
evidence
Archaic

the condition of being evident
something that makes another thing evident; indication; sign
something that tends to prove; ground for belief

Law

something presented in a legal proceeding, as a statement of a witness, an object, etc., which bears on or establishes a point in question
Origin of evidence
Middle English from Old French from Classical Latin
evidentia
from
evidens
, clear, evident from
e-
, from +
videns
, present participle of
videre
, to see: see wise
transitive verb
-·denced

,

-·denc·ing
to make evident; indicate; show
to bear witness to; attest
in evidence
plainly visible or perceptible
---
evidence
noun
a. A thing or set of things helpful in forming a conclusion or judgment: The broken window was evidence that a burglary had taken place. Scientists weighed the evidence for and against the hypothesis.

b. Something indicative; an indication or set of indications: saw no evidence of grief on the mourner's face.

Law

a. The means by which an allegation may be proven, such as oral testimony, documents, or physical objects.

b. The set of legal rules determining what testimony, documents, and objects may be admitted as proof in a trial.
transitive verb
ev·i·denced, ev·i·denc·ing, ev·i·denc·es
To indicate clearly; exemplify or prove: Her curiosity is evidenced by the number of books she owns.
Origin of evidence
Middle English
from
Old French
from
Late Latin
ēvidentia
from
Latin
ēvidēns
ēvident-
obvious
; see
evident
.
---
evidence

Noun
(usually uncountable, plural evidences)
Facts or observations presented in support of an assertion.

There is no evidence that anyone was here earlier.

One who bears witness.
Verb
(third-person singular simple present evidences, present participle evidencing, simple past and past participle evidenced)
To provide evidence for, or suggest the truth of.

She was furious, as evidenced by her slamming the door.
Origin
From Middle English, from Old French, from Latin evidentia ("clearness, in Late Latin a proof"), from evidens ("clear, evident"); see evident.
See also:
évidence
---
evidence - Legal Definition
n
A thing, a document, or the testimony of a person that bears on the truth or falsity of an assertion made in litigation; the totality of such items introduced in a trial; the legal doctrines pertaining to the admission, use, and evaluation of such items.
character evidence
Evidence attesting to one's character and moral standing in the community; character witnessed to attest to same. See also reputation witness.
competent evidence
Evidence that pertains to the matters being decided by the court and that may be considered by the court under the applicable rules of evidence.
cumulative evidence
Additional evidence that tends to prove the same assertions as evidence already admitted.
demonstrative evidence
Visual evidence, such as a chart, image, or model, prepared by attorneys or consultants, that demonstrates or clarifies information relevant to the trial.
direct evidence
Evidence based on the witness' personal observation of events.
documentary evidence
Documents introduced as evidence.
evidence in chief
Evidence supporting the basic premises of a party's case.
extrinsic evidence
Evidence pertaining to a contract and contradicting or supplementing its terms. Extrinsic evidence is not permitted where the contract is unambiguous.
opinion evidence
A witness' personal opinion about the facts of the dispute.
real evidence
Tangible evidence directly involved in the underlying events of the case.
rebuttal evidence
Evidence offered to contradict the other party's assertions.
---