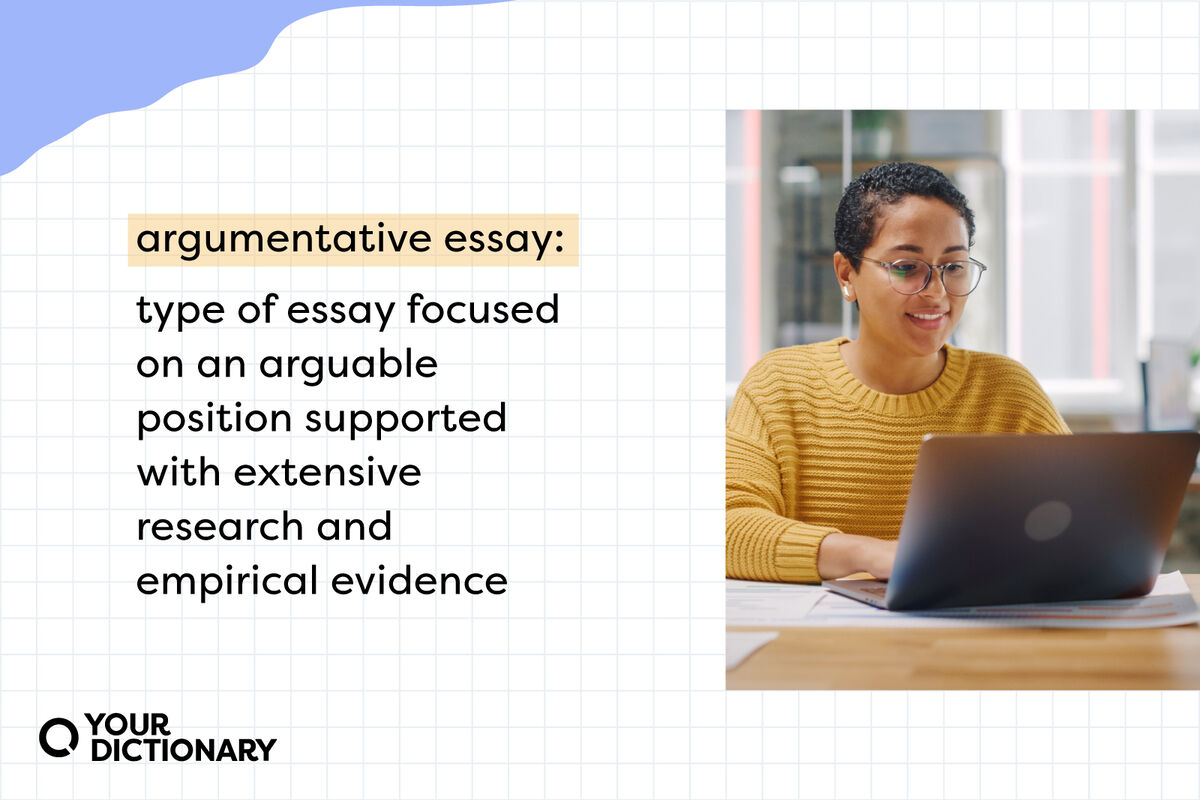 Knowing how to form a good argument is at the core of expressing your ideas and opinions, but actually arguing your opinion is hard. Contrary to what perpetually online people believe, arguing doesn't come down to who is the loudest or most wordy. An argumentative essay is a great way to learn how to create and develop meaningful arguments, but where do you even start?
What Is an Argumentative Essay?
An argumentative essay is a type of research paper that requires you to:
Investigate a given topic or theme
Establish a debatable position involving the given topic
Collect evidence to support your given position
Evaluate and refute counterarguments or opposing views
That might sound like a lot of other essays that technically require you to come up with an argument, like expository essays, critical essays, and persuasive essays. Unlike those essays, argumentative essays require much more extensive research, which can include published sources alongside more empirical research (surveying a student body, interviewing experts, or even conducting experiments).
Argumentative essays also take specific sides on debatable topics. Where a typical essay thesis might involve something closer to "I disagree with the themes of this novel, and here is a close reading to explain why," an argumentative essay takes a stance on a debatable issue ("I think dogs should have the right to vote"). The former draws more on emotion, while the latter is more about hard numbers, data, and quantitative research.
General Structure and Format of an Argumentative Essay
While you do have a little wiggle room, the structure and format of the argumentative essay is fairly rigid. You're basically stating your argument and then presenting all your evidence to prove that argument. There's definitely room for personal thought and interpretation, but you mostly want to focus on your argument and evidence.
Your argumentative essay will usually look like:
An introduction paragraph that states your argument
Three body paragraphs that introduce evidence to support that argument
One or two paragraphs that look at conflicting points of view on the topic
A conclusion that readdresses the thesis and looks toward potential future questions or more research to be done
Depending on the page or word requirements of your essay, you may write more body paragraphs. On the other hand, shorter essays may require you to shorten or completely do away with any analysis of refuting viewpoints.
Argumentative Essay Example
While you might have a general idea of how to write an argumentative essay, it can still be helpful to look at an example at work. Sadly, you'll have to write your own essay because we simply don't know your stance on things (What if you don't think dogs should vote?). On the bright side, we can give you a fairly good example of what an argumentative essay might look like to help you get started.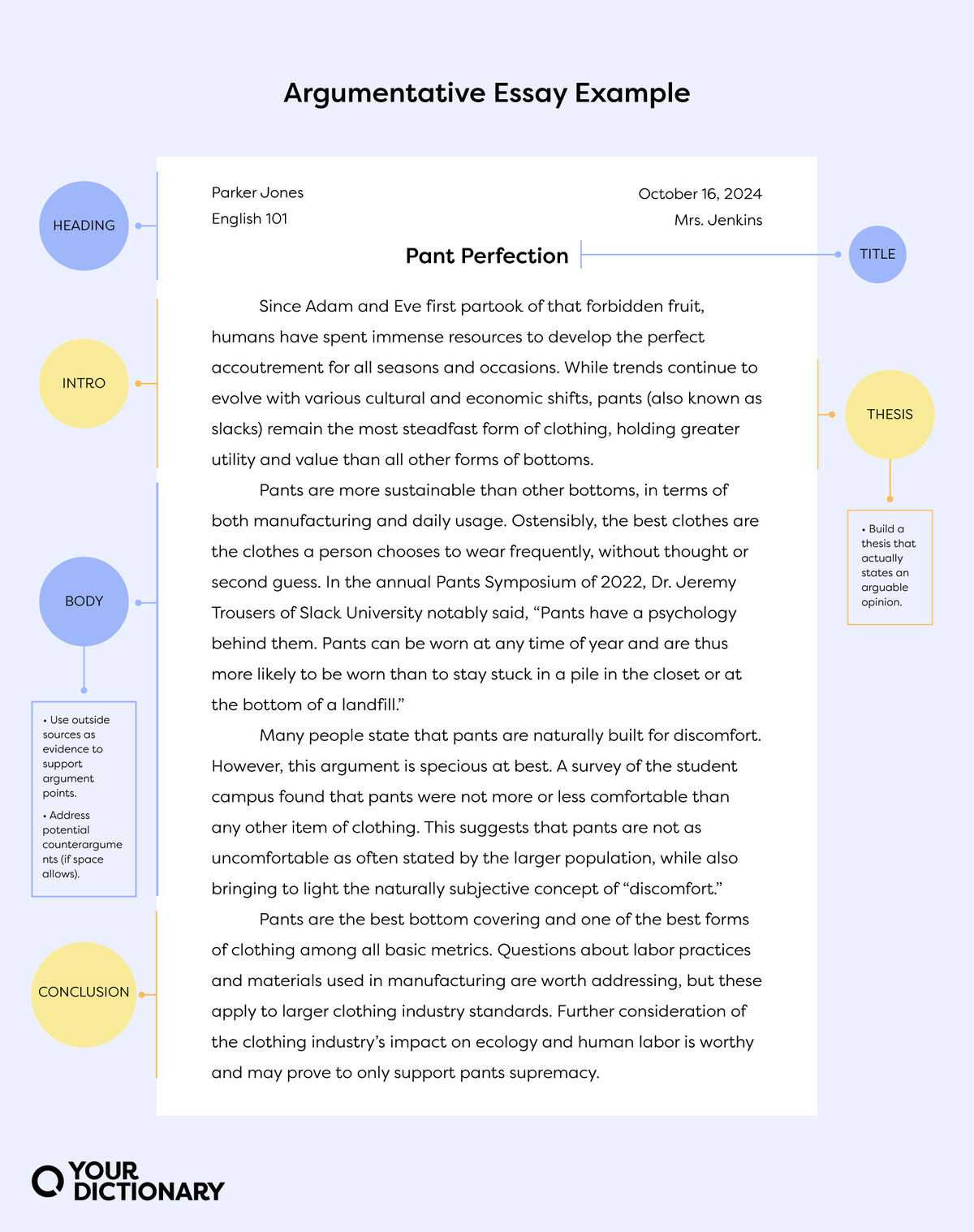 Argumentative Essay Introduction Example
Argumentative essays are definitely more research intensive than other essays, but don't think that means it has to be dry and stuffy. Remember that you still need to use good writing throughout, which also means making an introduction that will hook the reader.
Since Adam and Eve first partook of that forbidden fruit, humans have spent immense resources to develop the perfect accoutrement for all seasons and occasions. While trends continue to evolve with various cultural and economic shifts, pants (also known as slacks) remain the most steadfast form of clothing, holding greater utility and value than all other forms of bottoms.
Argumentative Essay Body Paragraph Example
The body paragraph of an argumentative essay should always present a point that further evaluates your argument along with evidence to support that point. You can (and should!) still present your own thoughts and use your writing voice, but if the paragraph doesn't directly address the argument you're trying to make, rethink why that paragraph exists.
Pants are more sustainable than other bottoms, in terms of both manufacturing and daily usage. Ostensibly, the best clothes are the clothes a person chooses to wear frequently, without thought or second guess. In the annual Pants Symposium of 2022, Dr. Jeremy Trousers of Slack University notably said, "Pants have a psychology behind them. Pants can be worn at any time of year and are thus more likely to be worn than to stay stuck in a pile in the closet or at the bottom of a landfill."
Along with evidence directly supporting your argument, your body paragraphs can also present evidence that refutes counter arguments or conflicting points of view.
Many people state that pants are naturally built for discomfort. However, this argument is specious at best. A survey of the student campus found that pants were not more or less comfortable than any other item of clothing. This suggests that pants are not as uncomfortable as often stated by the larger population, while also bringing to light the naturally subjective concept of "discomfort."
Argumentative Essay Conclusion Example
While conclusions can feel extraneous, they're an opportunity to consider questions related to your argument that are worth further research in some other form or future paper. It's basically acknowledging that any good argument comes with an ongoing conversation.
Pants are the best bottom covering and one of the best forms of clothing among all basic metrics. Questions about labor practices and materials used in manufacturing are worth addressing, but these apply to larger clothing industry standards. Further consideration of the clothing industry's impact on ecology and human labor is worthy and may prove to only support pants supremacy.