indicator

in·di·ca·tor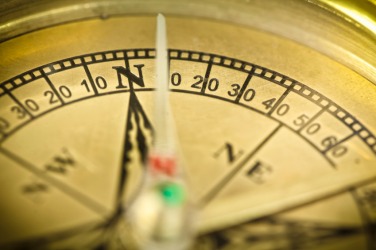 A compass needle is an indicator of direction.
noun
The definition of an indicator is something that points to or shows something.

An example of an indicator is a compass needle pointing northwest.
An example of an indicator is a thermostat saying it's 65 degrees outside.
An example of an indicator is a statistic such as the unemployment rate that reflects economic conditions.
An example of an indicator is a substance that changes color to reflect the acidity or alkalinity.
---
indicator
a person or thing that indicates; specif.,

any device, as a gauge, dial, register, or pointer, that measures or records and visibly indicates
an apparatus that diagrams the varying fluid pressure of an engine in operation

any of various substances used to indicate the acidity or alkalinity of a solution, the beginning or end of a chemical reaction, the presence of certain substances, etc., by changes in color
a statistic, as the unemployment rate, used to measure economic or social conditions

Ecol.

a species of plant or animal, or a community, whose occurrence serves as evidence that certain environmental conditions exist
---
indicator
noun
One that indicates, especially:

a. A pointer or an index.

b. An instrument used to monitor the operation or condition of an engine, furnace, electrical network, reservoir, or other physical system; a meter or gauge.

c. The needle, dial, or other registering device on such an instrument.

Chemistry Any of various substances, such as litmus or phenolphthalein, that indicate the presence, absence, or concentration of another substance or the degree of reaction between two or more substances by means of a characteristic change, especially in color.
Ecology An indicator species.
Any of various statistical values that together provide an indication of the condition or direction of the economy.
---
indicator

---