index

in·dex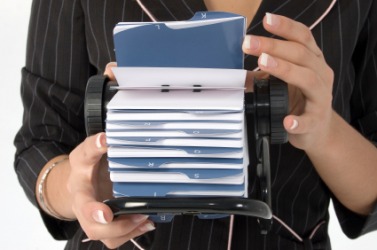 Index cards.
noun
The definition of an index is a guide, list or sign, or a number used to measure change.

An example of an index is a list of employee names, addresses and phone numbers.
An example of an index is a stock market index which is based on a standard set at a particular time.
verb
Index is defined as to categorize or list, or to make adjustments automatically based on a particular changing statistic.

An example of index is to put employees names in alphabetical order.
An example of index is to adjust wages based on the cost of living.
---
index
noun
pl.

-·dex·es

or

-·di·ces·
index finger
a pointer or indicator, as the needle on a dial
a thing that points out; indication; sign; representation: performance is an index of ability

an alphabetical list of contents, as names or subjects; specif., such a list, together with the page numbers where they appear in the text, usually placed at the end of a book or other publication
thumb index
a list describing the items of a collection and where they may be found; catalog: a library index
[I-] Index Librorum Prohibitorum
[I-] Index Expurgatorius
a periodical that lists books according to subject, with publishing information and summary of contents

the relation or ratio of one amount or dimension to another, or the formula expressing this relation: cranial index
a number used to measure change in prices, wages, employment, production, etc.: it shows percentage variation from an arbitrary standard, usually 100, representing the status at some earlier time

Math.

exponent (sense )
a subscript
an integer or symbol placed above and to the left of a radical (Ex.: , )

Printing

a sign ? calling attention to something; fist
Origin of index
L, informer, that which points out from
indicare
, indicate
to make an index of or for
to include in an index
to supply with a thumb index

to be an index, or sign, of; indicate
to adjust (wages, interest rates, etc.) automatically to changes in the cost of living
---
index
noun
pl.
in·dex·es,
or
in·di·ces
Something that serves to guide, point out, or otherwise facilitate reference, especially:

a. An alphabetized list of names, places, and subjects treated in a printed work, giving the page or pages on which each item is mentioned.

b. A thumb index.

c. A table, file, or catalog.

d. Computers A list of keywords associated with a record or document, used especially as an aid in searching for information.

Something that reveals or indicates; a sign: "Her face … was a fair index to her disposition" ( Samuel Butler )
A character (&handr;) used in printing to call attention to a particular paragraph or section. Also called hand .
An indicator or pointer, as on a scientific instrument.

a. Mathematics A number or symbol, often written as a subscript or superscript to a mathematical expression, that indicates an operation to be performed, an ordering relation, or a use of the associated expression.

b. A number derived from a formula, used to characterize a set of data.

a. A statistical value that represents the price or value of an aggregate of goods, services, wages, or other measurable quantities in comparison with a reference number for a previous period of time.

b. A number that represents the change in price or value of stocks or other securities in a particular market, sector, or asset class.

c. The stocks or other securities represented by an index.

Index Roman Catholic Church A list formerly published by Church authority, restricting or forbidding the reading of certain books.
transitive verb
in·dexed, in·dex·ing, in·dex·es
a. To furnish with an index: index a book.

b. To enter in an index.

To indicate or signal.
To adjust through indexation.
Origin of index
Middle English
forefinger
from
Latin; see
deik-
in Indo-European roots.
Related Forms:
---
index

---
index - Computer Definition
(1) See indexed color.
(2) A common method for keeping track of data so that it can be accessed quickly. Like an index in a book, it is a list in which each entry contains the name of the item and its location. However, computer-based indexes may point to a physical location on a disk or to a logical location that points elsewhere to the actual location. Indexes are used by all types of software, including the operating system, database management system (DBMS) and applications. For example, the file system index in an operating system contains an entry for each file name and the starting location of the file on disk. A database index has an entry for each key field (account number, name, etc.) and the location of the record. Search engines use a very sophisticated indexing system to keep track of billions of pages on the Web.
(3) In programming, a method for accessing data in a table. See subscript and inverted file.
---
index - Investment & Finance Definition
A statistical indicator that measures changes in financial markets or the economy. In the case of economic indicators, the Producer Price Index (PPI) is one example of an index. An index also can be a group of stocks representing a particular segment of the market. Well-known indices are the Dow Jones Industrial Average, the S&P 500 Index, the NASDAQ Composite Index, and the Russell 2000 Index.
---