badge
badge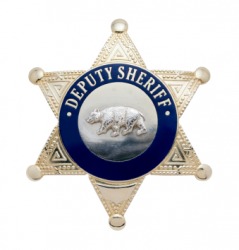 The badge of a Deputy Sheriff.
noun
The definition of a badge is a distinct mark, identifying signal or mark of allegiance.

An example of a badge is the gold star a sheriff wears on his uniform.
---
badge
a distinctive token, emblem, or sign worn to show rank, membership, achievement, etc.
any distinguishing mark, sign, or symbol
Origin of badge
Middle English
bage, bagge
badged

,

badg′ing
to mark or provide with a badge
---
badge
noun
a. A device or emblem worn as an insignia of rank, office, or membership in an organization.

b. An emblem given as an award or honor.

A characteristic mark or indicative trait: "Indifference to what others think is &ellipsis; the badge of the aristocrat" (Elspeth Huxley).
Origin of badge
Middle English
bagge
, from Norman French
bage
.
Related Forms:
---
badge
---