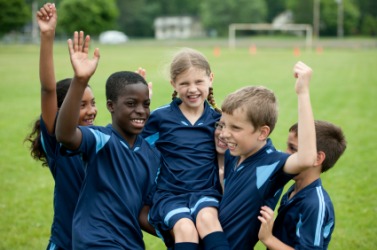 Kudos given to a team member.
noun
Kudos is defined as glory or praise for an achievement.

An example of kudos is what team members might say to the player who scores the winning goal.
---
kudos
credit or praise for an achievement; glory; fame: the performance earned her much kudos
Origin of kudos
Classical Greek
kydos,
glory, fame from Indo-European an unverified form
kud-
from base an unverified form
keu-,
to pay attention to, hear
---
kudos
noun
Acclaim or praise for exceptional achievement.
Origin of kudos
Greek
kūdos
magical glory
Usage Note: Kudos is one of those words like congeries that look like plurals but are etymologically singular. Acknowledging the Greek history of the term requires Kudos is (not are) due her for her brilliant work on the score. But kudos has often been treated as a plural, especially in the popular press, as in She received many kudos for her work. This plural use has given rise to the singular form kudo. These innovations follow the pattern whereby the English words pea and cherry were shortened from nouns ending in an (s) sound (English pease and French cerise ), that were mistakenly thought to be plural. The singular kudo remains far less common than the plural use; both are often viewed as incorrect in more formal contexts. • It is worth noting that even people who are careful to treat kudos only as a singular often pronounce it as if it were a plural. Etymology would require that the final consonant be pronounced as a voiceless (s), as we do in pathos, another word derived from Greek, rather than as a voiced (z).
---
kudos

Noun
(uncountable)
(proscribed) plural form of kudo.
Credit for one's achievements.
Usage notes
The noun kudos was originally a mass noun, but is now sometimes taken as a plural noun, either as a plural tantum, or as the plural of a new noun kudo. However, this plural treatment is frequently proscribed.
Origin
From Ancient Greek κῦδος (kudos, "praise, renown").
---