plaque
plaque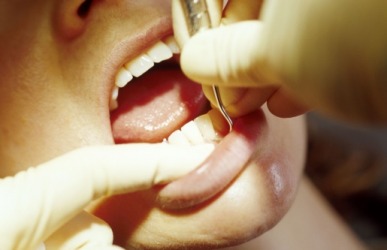 Dental teeth cleaning
noun
Plaque is sticky white stuff on your teeth in which bacteria live, a wood or metal object that is often used to commemorate or memorialize.

Sticky white stuff on your teeth with bacteria in it is an example of plaque.
A little brass plate with the name of a donor on it that is attached to a bench the donor paid for is an example of a plaque.
---
plaque
any thin, flat piece of metal, wood, etc., with a picture, design in relief, etc., hung as on a wall for ornamentation
a wall tablet inscribed to commemorate an event, identify a building, etc.

a platelike brooch worn as a badge or ornament

an abnormal patch on the skin, mucous membrane, etc.
a thin, transparent film on a tooth surface, containing mucin, bacteria, etc.: if not removed it forms tartar and promotes tooth decay
a deposit of fatty or fibrous material in a blood vessel wall
Origin of plaque
French ; from Middle Dutch
placke,
disk, spot, patch
---
plaque
noun
A flat plate, slab, or disk that is ornamented or engraved for mounting, as on a wall for decoration or on a monument for information.
A small pin or brooch worn as an ornament or a badge of membership.
Medicine

a. A deposit of fatty material on the inner lining of an arterial wall, characteristic of atherosclerosis.

b. A scaly patch on a body part, especially the skin.

c. A film of mucus and bacteria on a tooth surface.

d. A lesion found in the brain tissue of people with Alzheimer's disease, consisting mainly of beta-amyloid protein and degenerating nerve tissue.

e. A sharply defined zone of demyelination in the brain characteristic of multiple sclerosis.

A clear, often round patch of lysed cells in an otherwise opaque layer of a bacteria or cell culture.
Origin of plaque
French, from Old French,
metal plate
, perhaps from Middle Dutch
placke
,
disk, patch
.
---
plaque
Noun
(countable and uncountable, plural plaques)
Any flat, thin piece of metal, clay, ivory, or the like, used for ornament, or for painting pictures upon, as a slab, plate, dish, or the like, hung upon a wall; also, a smaller decoration worn on the person, as a brooch.
A piece of flat metal with a writing on it, atached to a building to remind people of a person ar an event
(uncountable, medicine) Atheroma, an accumulation in artery walls made up of macrophage cells and debris containing lipids, (cholesterol and fatty acids), calcium, and connective tissue.
Origin
Borrowing from French plaque, derivative of plaquer ("to plate"), from Middle Dutch placken ("to patch, beat metal into a thin plate"), from placke ("disk, patch, stain"), from Old Dutch *plagga ("patch"), from Proto-Germanic *plaggÄ… ("patch"). Cognate with Middle Low German placke, plagge ("small stain, scraps, rags, thin grass"), German Placken ("spot, patch"), Eastern Frisian plak, plakke ("a blow, slap"), Swedish plagg ("clothing, garment"). See plack.
---