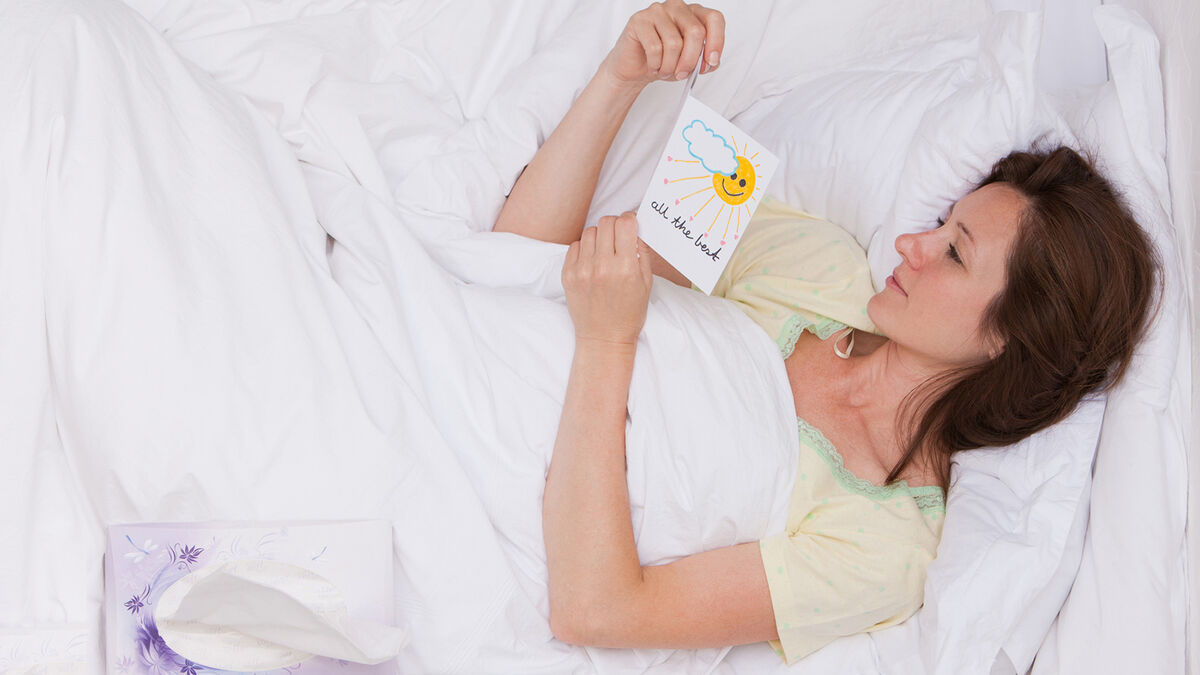 If you are writing a card to someone who is very ill, you may want to brainstorm some comforting words for a serious illness. Following are some things to think about and some examples of things to say to a friend or family member who is very sick.
What to Write in a Serious Illness Card
Whether you are sending a card, a gift, or an email, sometimes it is hard to know what to say. You don't want to use clichés or upset the ill person more. A few choice words can brighten a person's day, and perhaps, if they are seriously ill, can give them hope of recovery.
Empathetic Words for a Sick Friend or Family Member
Here are some appropriate and empathetic words for a serious illness card that say "I am thinking of you":
This is such a difficult time, and I'm here if you need to talk.
You've been on my mind lately, and I'm sending you a hug.
If I had a flower for every time I thought of you, I would walk forever in my garden.
I think about you constantly, whether it's with my mind or my heart.
Until the sun comes out again for you, my umbrella is big enough for two.
If knowing that someone cares helps the healing process......then you should be feeling better already.
Encouraging Words for a Serious Illness
The following quotes are a bit more philosophical and may help the seriously ill person deal with his or her illness. They will provide encouragement as well as comfort.
What lies behind us and what lies before us are tiny matters compared to what lies within us. - Ralph Waldo Emerson
What the caterpillar calls the end of the world, the master calls a butterfly. - Richard Bach
The soul would have no rainbow had the eyes no tears. - John Vance Cheney
If the future seems overwhelming, remember that it comes one moment at a time. - Beth Mende Conny
I have heard there are troubles of more than one kind; Some come from ahead and some come from behind. But I've bought a big bat. I'm all ready you see. Now my troubles are going to have troubles with me! - Dr. Seuss
(Good to send with a flower gift) Here's a little bloom to brighten your room, And a little card to say God Bless you today!
Comforting Words for the Terminally Ill
It can be especially difficult to know what to say to someone who is terminally ill. Don't tell the person everything will be okay or that this is the plan. Instead, use one of these comforting and supportive phrases:
Thank you for telling me about your illness. I know it must be difficult to share this with people.
This is so hard. I wish this wasn't happening to you.
I'm here in any way you need me. (Follow up with a specific offer of service, such as shopping, washing clothes, or bringing a meal.)
How are you holding up? I am thinking about you.
Thank you for all you have done for me. I especially appreciate….
I love you.
Letters or Emails to Someone Who Is Seriously Ill
Here are some thoughts that may help you write a good letter or email. You want to let them know that you are thinking about them and give them hope, comfort, and encouragement:
Unfortunately, hospital rules won't let me visit you in Intensive Care. But I want you to know that my thoughts and prayers are with you.
I heard that you're going through chemotherapy. I'm sorry to hear that, and I hope the ordeal is not too difficult. I hope that you will soon regain some strength, and I look forward to seeing you soon.
Let me know when you feel up for visitors, and I'll come over.
This must be a very difficult time in your life right now. I hope that the medications the doctors are giving you are helping you feel better and you get to return home soon. Remember that you are missed and that we all (I) care.
Gift Ideas for Sick Friends and Family
Now that you have some ideas of appropriate words for a serious illness card or letter, you may want to send or take a gift. Gift stores or floral shops have a collection of mugs, stuffed animals, plaques, or figurines that sometimes have inspirational words on them.
If the person has a terminal illness, you may consider talking to family members and friends and putting together a scrapbook of the person's life. Not only would it give the person some memories to enjoy, but it is something visitors could look at with him or her, as it is sometimes hard to think of things to say.
Should the ill person be looking at a long recovery or hospital stay, a well-chosen gift would be appreciated. For example, one of these could be great:
Potted plant
CDs and DVDs
Membership to a movie service
Bathrobe or slippers
A visit from a beautician, barber, or manicurist
Share the Burden of Illness
Whether you decide to send a card, a letter, an email, or a gift, the important thing to remember is that you want to send a message of friendship and love. It can help to see some genuine examples of empathy, since one of the most comforting things you can do is share the burden of illness.