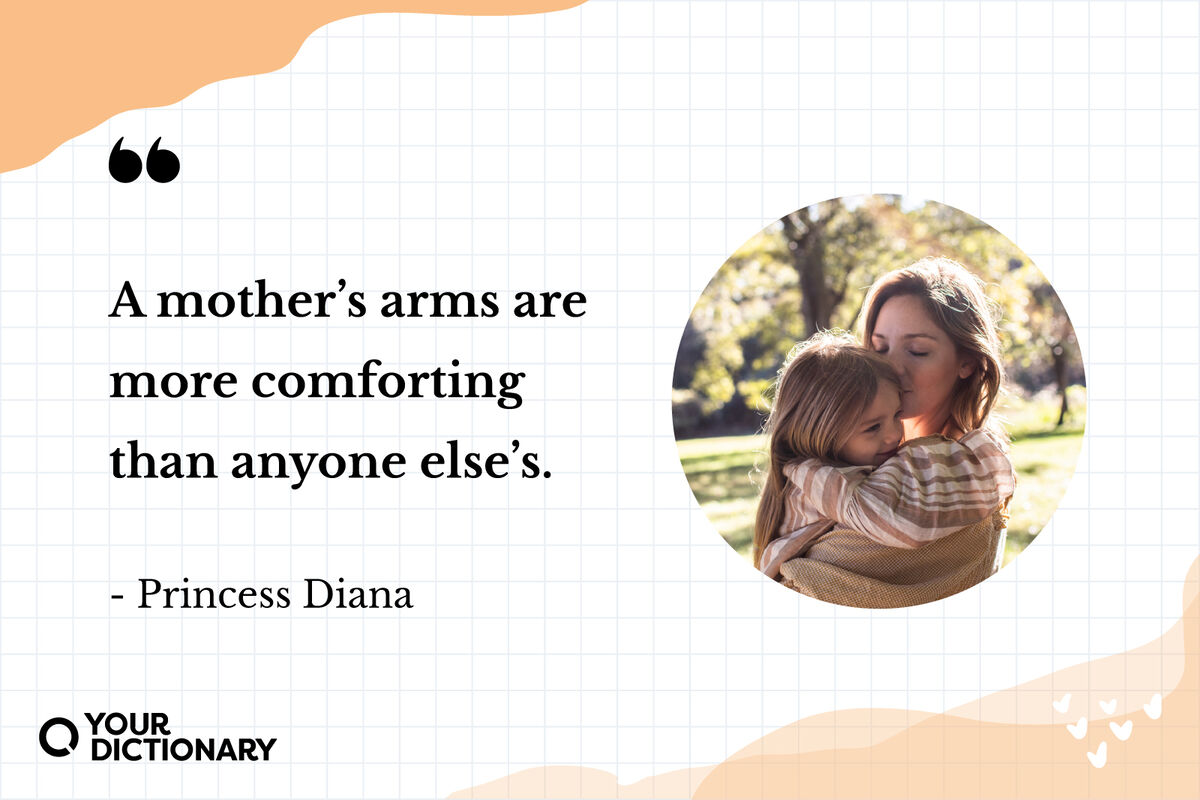 Show your mother just how much she means to you with a funny, inspirational or loving quotation for Mother's Day. There are endless sayings about mothers to choose from that will relate specifically towards your mom and her unique personality.
Mothers work tirelessly for their kids. To show your mom how special she is to you, choose one of the following loving sayings:
Mothers hold their children's hands for a short while, but their hearts forever. - Unknown
Your arms were always open when I needed a hug. Your heart understood when I needed a friend. Your gentle eyes were stern when I needed a lesson. Your strength and love has guided me and gave me wings to fly. - Sarah Malin
A mother's arms are more comforting than anyone else's. - Princess Diana
A mother is the one who is still there when everyone else has deserted you. - Unknown
All that I am or ever hope to be, I owe to my angel mother. - Abraham Lincoln
Mothers make a home the happiest place to be. - Unknown
A mom's hug lasts long after she lets go. - Unknown
A mother – she sees all but says a little. She sacrifices all, yet complains a little. Most of all, she gives all, but expects only a little. - Unknown
Of all the gifts life has to offer a loving mother is the greatest of them all. - Unknown

For the mom with a good sense of humor and fun personality, choose one of the following sayings:
To describe my mother would be to write about a hurricane in its perfect power. 
- Maya Angelou
Mothers are all slightly insane. - J.D. Salinger
I love cleaning up messes I didn't make. So, I became a Mom. - Unknown
Once you sign on to be a mother, that's the only shift they offer. - Jodi Picoult
Nothing is really lost until Mother can't find it. - Unknown
Moms! Not all superheroes wear capes. - Unknown
Behind every Mom is a basket of dirty laundry. - Unknown
When your mother asks, 'Do you want a piece of advice?' it is a mere formality. It doesn't matter if you answer yes or no. You're going to get it anyway. - Erma Bombeck
"It is never easy being a mother. If it were easy, fathers would do it." - Unknown
Use one of the following sayings to give your mom a boost:
God could not be everywhere, so he created mothers. - Jewish Proverb
To the world you might just be one person, but to one person you might just be the world. - Unknown
There was never a great man who had not a great mother. - Olive Schreiner
There is no influence so powerful as that of the mother. - Sarah Josepha Hale
My mother is my root, my foundation. She planted the seed that I base my life on, and that is the belief that the ability to achieve starts in your mind. - Michael Jordan
Men are what their mothers made them. - Ralph Waldo Emerson
But behind all your stories is always your mother's story, because hers is where yours begins. - Mitch Albom
My mom is a never-ending song in my heart of comfort, happiness, and being. I may sometimes forget the words but I always remember the tune. - Graycie Harmon

Using Quotes on Mother's Day
A special saying can be used in a card for your mom, in a message with some flowers or simply said to her as you give her a hug! You can also incorporate a quote into a plaque, picture or personalized gift you are sending her on Mother's Day. By using a heartfelt quote, you are sure to let your mom know that she is special and being thought of on Mother's Day and all the days beyond.
Go to our Quotes pages for more quotes about mothers.