award

a·ward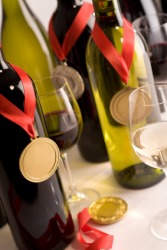 Award winning wines with their medals.
noun
The definition of award is something you receive for doing well.

A plaque you receive for volunteering the most hours at a shelter is an example of an award.
verb
Award is defined as to present something like a prize or certificate to a person who has earned it.

An example of award is when you hand out trophies to the winning team.
---
award
to give by the decision of a law court or arbitrator: the plaintiff was awarded damages
to give as the result of judging the relative merits of those in competition; grant: to award a prize for the best essay
Origin of award
Middle English
awarden
from Anglo-French
awarder
from Anglo-Norman
eswarder
from
es-
( from Classical Latin
ex
) + Germanic an unverified form
wardon
: see warn
a decision, as by a judge or arbitrator
something that is awarded; prize
---
award
transitive verb
a·ward·ed, a·ward·ing, a·wards
To grant as merited or due: awarded prizes to the winners.
To grant an amount or other benefit legally due: awarded damages to the plaintiff.
noun
Something awarded or granted, as for merit.
An amount or other benefit granted as legally due.
Origin of award
Middle English
awarden
from
Anglo-Norman
awarder
to decide (a legal case)
variant of
Old North French
eswarder
es-
out
(
from
Latin
ex
; see
ex-
. )
warder
to judge, guard
; see
wer-
3
in Indo-European roots.
Related Forms:
---
award

Verb
(third-person singular simple present awards, present participle awarding, simple past and past participle awarded)
(law) To give by sentence or judicial determination; to assign or apportion, after careful regard to the nature of the case; to adjudge; as, the arbitrators awarded damages to the complainant.
(intransitive) To determine; to make or grant an award.
---
award - Legal Definition
n
The final decision of an arbitrator.
The final decision of a court, jury, or administrative tribunal granting damages or other relief to a party.
v
---