accolade

ac·co·lade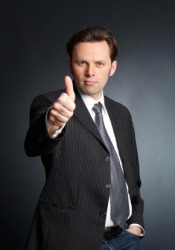 A thumbs-up is one way to give an accolade.
noun
The definition of an accolade is something given to a person in order to praise or recognize the person or his accomplishment.

An example of accolade would be a thumbs-up review of a play.
---
accolade
an embrace formerly used in conferring knighthood
a touch on the shoulder with the flat side of a sword, now used in conferring knighthood

anything done or given as a sign of great respect, approval, appreciation, etc.
[usually pl.] words of praise

Music

brace (sense )
Origin of accolade
French from Provençal
acolada
from Vulgar Latin an unverified form
accolare
, to embrace from Classical Latin
ad
, to +
collum
, neck: see wheel
---
accolade
noun
a. An expression of approval; praise.

b. A special acknowledgment; an award.

A ceremonial embrace, as of greeting or salutation.
Ceremonial bestowal of knighthood.
transitive verb
ac·co·lad·ed, ac·co·lad·ing, ac·co·lades
To praise or honor: "His works are invariably accoladed as definitive even as they sparkle and spark" ( Malcolm S. Forbes )
Origin of accolade
French
an embrace, accolade
from
accoler
to embrace
from
Old French
acoler
from
Vulgar Latin
accollāre
Latin
ad-
ad-
Latin
collum
neck
; see
kwel-
1
in Indo-European roots.
---
accolade

Verb
(third-person singular simple present accolades, present participle accolading, simple past and past participle accoladed)
(historical) To confer a knighthood on.
---