noun
The definition of an accolade is something given to a person in order to praise or recognize the person or his accomplishment.

An example of accolade would be a thumbs-up review of a play.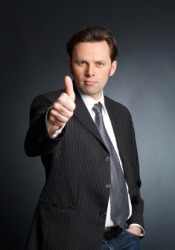 A thumbs-up is one way to give an accolade.
---
accolade definition by Webster's New World
noun
an embrace formerly used in conferring knighthood
a touch on the shoulder with the flat side of a sword, now used in conferring knighthood

anything done or given as a sign of great respect, approval, appreciation, etc.
words of praise

Music

brace (sense )
Origin: French ; from Provençal acolada ; from Vulgar Latin an unverified form accolare, to embrace ; from Classical Latin ad, to plush collum, neck: see wheel
Webster's New World College Dictionary Copyright © 2010 by Wiley Publishing, Inc., Cleveland, Ohio. Used by arrangement with John Wiley & Sons, Inc.
---
accolade definition by American Heritage Dictionary
noun
a. An expression of approval; praise.

b. A special acknowledgment; an award.

A ceremonial embrace, as of greeting or salutation.
Ceremonial bestowal of knighthood.
transitive verb
ac·co·lad·ed
,
ac·co·lad·ing
,
ac·co·lades
To praise or honor: "His works are invariably accoladed as definitive even as they sparkle and spark" (Malcolm S. Forbes).
Origin: French, an embrace, accolade, from accoler, to embrace, from Old French acoler, from Vulgar Latin *accolāre : Latin ad-, ad- + Latin collum, neck; see kwel-1 in Indo-European roots.
Word History:
People usually have to stick their necks out to earn accolades, and this is as it should be. In tracing
accolade
back to its Latin origins, we find that it was formed from the prefix
ad-,
"to, on," and the noun
collum,
"neck," which may bring the word
collar
to mind. From these elements came the Vulgar Latin word
*accollāre,
which was the source of French
accolade,
"an embrace." An embrace was originally given to a knight when dubbing him, a fact that accounts for
accolade
having the technical sense "ceremonial bestowal of knighthood," the sense in which the word is first recorded in English in 1623.