salute

sa·lute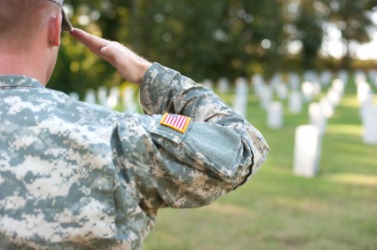 A soldier gives a salute to fallen comrades.
noun
The definition of a salute is a specific movement or action designed to convey respect.

An example of a salute is when you gesture with your hand at your superiors in the military to show respect.
An example of salute is when guns are shot at a military funeral to show respect to the deceased.
verb
To salute is to make a gesture of respect.

An example of salute is the movement you make when you use your hand to make a gesture of respect to a superior in the military.
---
salute
transitive verb
-·lut′ed

,

-·lut′ing
to greet or welcome with friendly words or ceremonial gesture, such as bowing, tipping the hat, etc.
to honor by performing a prescribed act or gesture, such as dipping the flag, firing cannons, or raising the right hand to the forehead, as a mark of military, naval, or official respect
to present itself to, as if in greeting
to acknowledge with praise; commend
Origin of salute
Middle English
saluten
from Classical Latin
salutare
, to salute, wish health to from
salus
(gen.
salutis
), health, greeting from
salvus
, safe
the act of saluting; salutation

a gesture or remark made in saluting
the act of respect paid in saluting

something, as an event or ceremony, expressing respect, admiration, compliment, etc.: the benefit was a salute to the museum

Mil.

the position of the body, or of the hand, rifle, etc., assumed in saluting
Origin of salute
OFr
salut
< L
salus
---
salute
verb
sa·lut·ed, sa·lut·ing, sa·lutes
verb
transitive
To greet or address with an expression of welcome, goodwill, or respect.
To recognize (a superior) with a gesture prescribed by military regulations, as by raising the hand to the cap.

a. To honor formally and ceremoniously: saluted the fallen soldiers in his remarks.

b. To express warm approval of; commend: salute an agency for its charity work.

To become noticeable to: A stench saluted our nostrils.
verb
intransitive
To make a gesture of greeting or respect.
noun
An act of greeting; a salutation.

a. An act or gesture of welcome, honor, or courteous recognition: a musical salute to the composer's 90th birthday.

b. The position of the hand or rifle or the bodily posture of a person saluting a military superior.

A formal military display of honor or greeting, such as the firing of cannon.
Origin of salute
Middle English
saluten
from
Latin
salūtāre
from
salūs
salūt-
health
; see
sol-
in Indo-European roots.
Related Forms:
---
salute

Noun
(plural salutes)
A formal gesture made in honor of someone or something, usually with the hand or hands in one of various particular positions.

The soldiers greeted the dignitaries with a crisp salute.
Verb
(third-person singular simple present salutes, present participle saluting, simple past and past participle saluted)
To make a gesture in honor of someone or something.

They saluted the flag as it passed in the parade.

To act in thanks, honor, or tribute; to thank or extend gratitude; to praise.

I would like to salute the many dedicated volunteers that make this project possible.

(Ireland, informal) to wave, to acknowledge an acquaintance.

I saluted Bill at the concert, but he didn't see me through the crowd.

To address, as with expressions of kind wishes and courtesy; to greet; to hail.
.
Origin
from Latin salutare ("greet"), from salutis, genitive of salus ("greeting, good health"), related to salvus ("safe").
---