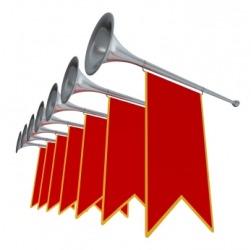 Trumpets ready to give a fanfare.
noun
Fanfare is defined as a loud and flashy display, or a short and dramatic trumpet flourish.

An example of a fanfare is a parade.
An example of fanfare is two trumpet musicians announcing the arrival of the guest of honor at a function.
---
fanfare
a loud flourish of trumpets
a very brief musical piece serving as to introduce a dignitary or announcement

noisy or showy display
Origin of fanfare
French from
fanfarer
, to blow trumpets, probably from
fanfaron
, braggart: see fanfaronade
---
fanfare
noun
Music A loud flourish of brass instruments, especially trumpets.
A spectacular public display.
Origin of fanfare
French
possibly of imitative origin
---
fanfare

Noun
(countable and uncountable, plural fanfares)
(countable) A flourish of trumpets or horns as to announce; a short and lively air performed on hunting horns during the chase.

They played a short fanfare to announce the arrival of the king.

(uncountable) A show of ceremony or celebration.

The town opened the new library with fanfare and a speech from the mayor.
---