fireworks

fire·works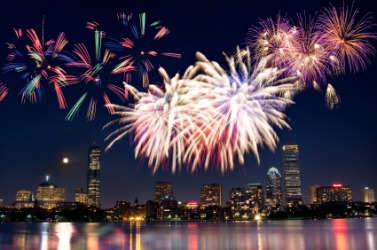 A fireworks display over Boston.
noun
The definition of fireworks is exploding gunpowder and chemicals designed to launch colorful bursts of sparks.

Facts About Fireworks

Process - A fuse is lit. It ignites gunpowder, and a projectile is launched through the barrel. The barrel used to launch the firework shell is called a mortar. It is usually a steel pipe with gun powder, or lifting charge, to push the shell out of the tube.
Four parts to a firework shell - Container, fuse, bursting charge and stars
The outer container is made of brass with the inner container usually made of paper and string.
The inner container runs the length of the brass container and is filled with gunpowder to serve as the lift agent.
The fuse is ignited at lift-off and expels a large amount of gas out the rear to speed the payload.
The fuse continues burning as the shell rises. The longer the fuse, the higher the altitude of the display.
When the container explodes, the "stars" begin to burn, creating the bright sparks in a fireworks show. The colors of the "Stars" are based on the combination of metals and salts which have been added to the binding agent.
Orange colors are produced by calcium salts, blue colors are produced by copper, lithium and lithium carbonate make colors like red and iron produces a range of different colors from white to yellow to orange and red.
The arrangement of the metal and chemical salts will determine the shape of the display in the sky, ranging from circular or willow to chrysanthemum or palm.
Firewords explode due to the production of oxygen and mixed with reducing agents such as sulfer and carbon combined with the simple chemical reaction of incandescence and the process of luminescence.

An example of fireworks is a 4th of July display of sparklers and colorful pyrotechnics.
---
fireworks
sing.

-·work·

firecrackers, rockets, etc., exploded or burned, as in celebrations, to produce noises or brilliant lighting effects: sometimes used in sing.
a display of fireworks
a noisy quarrel or display of anger
---
fireworks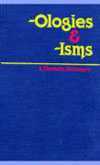 pyrotechnics, pyrotechny
1
. the art of making and using fireworks.
2
. a brilliant and dazzling display, as of eloquence, wit, virtuosity, etc. —
pyrotechnic
,
pyrotechnical
,
adj.
pyrotechnician
a person skilled in the use and handling of fireworks. Also
pyrotechnist
.
---
fireworks

Noun
(plural only)
Plural and collective of firework.
An event or a display where fireworks are set off.
(figuratively) An boisterous or violent situation or event.

I left the room after John came home drunk but before the fireworks went off.
---