punk

punk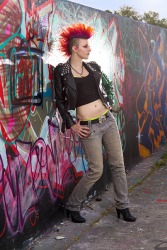 A stylish punker standing against a graffiti wall.
noun
Punk is defined as a young, rebellious person, or aggressive rock music that was popular in the 1970's and those who admire that style of music.

A kid who hangs around on the street all day giving attitude and occasionally shoplifting or stealing wallets is an example of a punk.
A follower of aggressive 1970's rock music who wears his hair in a Mohawk and dyes it blue is an example of a punk.
---
punk
any substance, as decayed wood, that smolders when ignited, used as tinder; esp., a chemically treated fungous substance shaped into slender, fragile, light-brown sticks: the glowing tips are used to light fireworks, etc.
Origin of punk
probably variant, variety of spunk
Obs.

a prostitute

Slang

catamite
a male homosexual
a young hoodlum
any person, esp. a youngster, regarded as inexperienced, insignificant, presumptuous, etc.

punk rock
a style, originating among fans of punk rock, characterized by motley clothes, oddly clipped hair, etc.
Origin of punk
Early Modern English slang from uncertain or unknown; perhaps
Slang

poor or bad in condition, quality, etc.
of or having to do with punk rock or the style called punk
---
punk
noun
Slang

a. An often aggressive or violent young man: The building was set on fire by a bunch of punks.

b. An inexperienced young person: We don't want that little punk tagging along.

c. A cowardly or weak young man: Don't let him disrespect you—show him you're not a punk.

Music

a. Punk rock.

b. A punk rocker.

a. Slang A young man who is the sexual partner of an older man, especially in prison.

b. Archaic A prostitute.
verb
punked, punk·ing, punks
Slang
verb
intransitive
To act in a cowardly manner. Often used with out.
verb
transitive
To humiliate (someone). Often used with down or out.

a. To dupe or deceive.

b. To play a practical joke on.
Origin of punk
Origin unknown
Related Forms:
noun
Dry decayed wood, used as tinder.
Any of various substances that smolder when ignited, used to light fireworks.
Chinese incense.
adjective
Slang
Of poor quality; worthless.
Weak in spirits or health.
Origin of punk
Probably of eastern Algonquian origin
---
punk

---