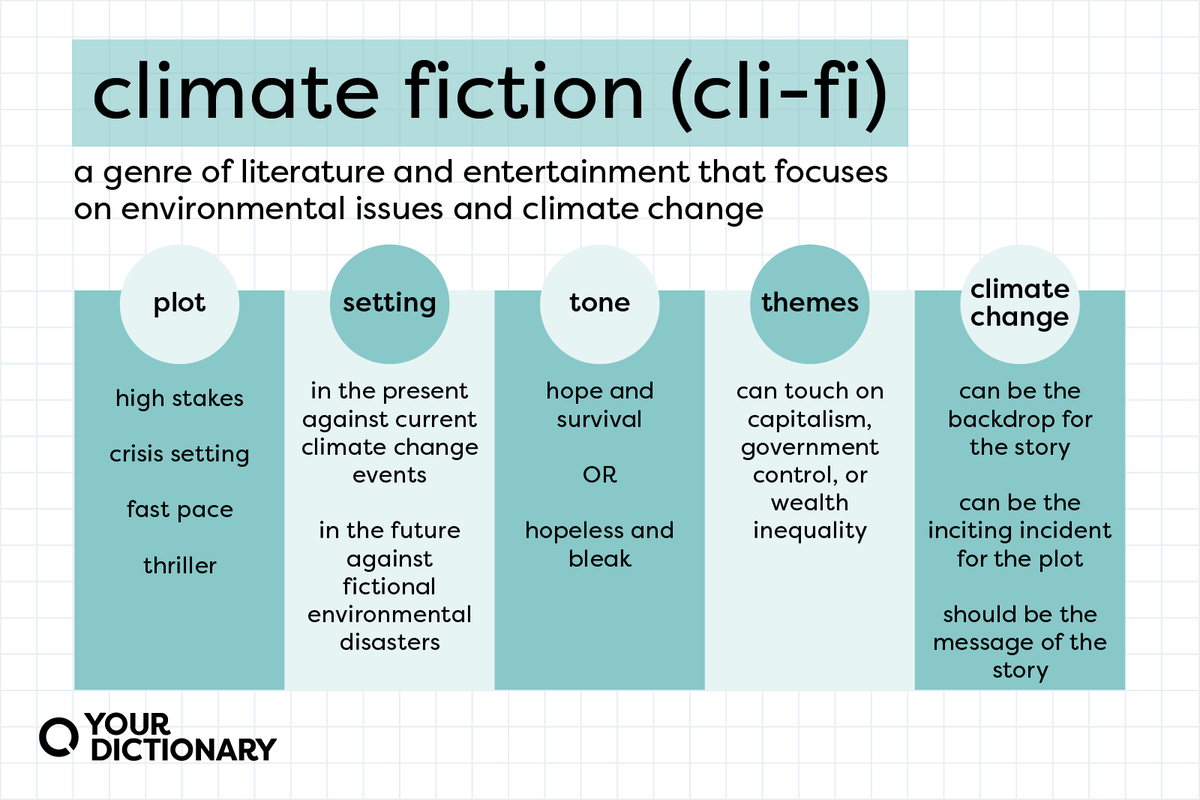 Cli-fi (or cli-fi) is short for "climate fiction," a genre of literature and entertainment that focuses on environmental issues and climate change. Characters in these works must navigate a changing (or changed) climate, often to the point of surviving a climate disaster. 
Cli-fi first became popular in the early 2000s, but authors have been sounding the alarm bells on climate change long before that — in some cases, back to the 1800s.
Features of Climate Fiction
Though every piece of climate fiction is unique and tells its own story, you'll find several characteristics and themes that tend to appear in most cli-fi works.
A thriller-type plot (high stakes, crisis setting, fast pace)
Climate change as either the backdrop for the story or the inciting incident for the plot
A story that tells a specific message about climate change
Often a bleak, hopeless tone (or a tone of hope and survival)
Can be set in the present against current climate change events (such as Hurricane Katrina) or in the future against fictional environment disasters
Often touches on other current themes, such as capitalism, government control, or wealth inequality
Fast Fact
Who coined the term "cli-fi?"
Most people agree that Dan Bloom, a news reporter and climate change activist, coined the term in 2007 to bring more attention to the looming environmental crisis in literature.
Considered one of the first cli-fi works, Lord Byron's 1816 poem Darkness imagines the harsh realities of our world in a changed climate. Many authors since have followed Byron's lead into this thought experiment — often to apocalyptic conclusions.
​​I had a dream, which was not all a dream.
The bright sun was extinguish'd, and the stars
Did wander darkling in the eternal space,
Rayless, and pathless, and the icy earth
Swung blind and blackening in the moonless air;
Morn came and went—and came, and brought no day,
And men forgot their passions in the dread
Of this their desolation...
The Martian Chronicles (1950)
Originally a set of short stories that were revised as a complete novel, The Martian Chronicles by Ray Bradbury brings its characters to a settlement on Mars after nuclear war has destroyed Earth.
Much of Frank Herbert's Dune takes place on the desert planet Arrakis — the only source of the precious resource "spice." The once-lush planet is now (nearly) inhospitable due to overmining and resource exploitation.
Parable of the Sower (1993)
In Octavia E. Butler's Parable of the Sower, a hyper-empathetic teen creates a religion called Earthseed in which followers believe it is their destiny and duty to leave the ravaged Earth behind and repopulate on other planets.
Zahrah and the Windseeker (2005)
Nnedi Okorafor's young adult novel Zahrah and the Windseeker uses Nigerian folklore to create the technology-rich kingdom of Ooni on the planet Ginen, where windseeker Zahrah must travel into the forbidden jungle to save her best friend.
Set after a devastating climate disaster, The Road by Cormac McCarthy follows a father and son through the horrors of a post-apocalyptic world — and their fellow survivors.
In Flight Behavior by Barbara Kingsolver, a farmer's wife discovers that an unexpected monarch butterfly migration foretells climate crises to come, as well as her own personal crises.
Sherri L. Smith's novel Orleans takes place in 2056 Orleans, after a series of hurricanes and an outbreak of Delta Fever have quarantined the entire Gulf Coast, leading its citizens to seek survival in desperate circumstances.
The History of Bees (2015)
The History of Bees by Maja Lunde compares three experiences of an ecosystem with (and without) bees: a revolutionary beehive in 1852 England, a struggling beekeeper in 2007 United States, and a bee-less orchard in 2098 China.
Future Home of the Living God (2017)
Living under the dual threats of climate disaster and the reversal of evolution, the characters in Louise Erdrich's Future Home of the Living God explore racial identity, reproductive rights, and the responsibility of a future ancestor.
Omar El Akkad's American War divides the United States into two parts after the Second Civil War (2074 to 2095) — the states who obey the federal ban on fossil fuels, and the states who defy it.
In Richard Powers' novel The Overstory, trees play an important role in bringing nine very different people together in their efforts to stop deforestation.
The Ministry for the Future (2020)
Set in the near future, Kim Stanley Robinson's The Ministry for the Future features a world devastated by high temperatures, governed by an international organization dedicated to advocating for future generations of climate change, and beset with violence and ecoterrorism.
Vigil Harbor by Julia Glass sets a story of mysterious strangers in an exclusive New English community against a backdrop of climate instability, violence, and the untrustworthy human nature.
A House Between Earth and the Moon (2022)
In Rebecca Scherm's A House Between Earth and Moon, the discovery of gene-edited superalgae promises to slow (and stop) climate change, bringing an obsessed researcher from the ruined planet Earth to the upper-class space station Parallaxis.
Cli-fi covers a wide variety of topics and political issues. You may find that it coincides with similar speculative fiction (literature set outside our real world) genres, many of which have a different tone or aesthetic.
eco fiction - fiction about the natural world and how it relates to humanity
solarpunk - stories that envision a connection between technology and nature
hope punk - fiction that finds hope in the most dire circumstances, usually with a theme of humanity and collaboration
apocalyptic fiction - stories that take place during an apocalypse that threatens humankind
post-apocalyptic fiction - stories that take place after an apocalypse that threatens humankind, usually after the apocalypse has been normalized
ecological horror (eco-horror) - fiction in the horror genre in which the horror element is caused by nature or climate change
dystopian fiction - fiction that examines the dark implications of political decisions and policies
utopian fiction - fiction that takes place in an ideal world, usually based on the positive consequences of a political decision or policy
optopian fiction - fiction that occurs in an "optimal" world — a combination of dystopian and utopian elements
climate strange - cli-fi that explores the odd elements and possibilities of nature