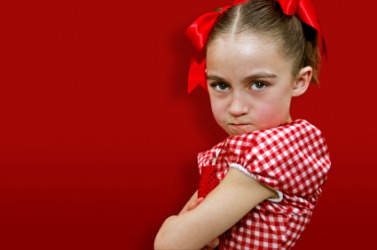 This child is being a brat.
noun
The definition of a brat is a child that is difficult to manage, or a child of a military family.

A child who throws a tantrum every five minutes is an example of a brat.
The daughter of an ensign in the Navy is an example of a Navy brat.
---
brat
a child, esp. an impudent, unruly child: scornful or playful term

Slang

the son or daughter of a person in a professional community, a particular company, the armed forces, etc., esp. one who has been raised in such a community, company, etc.: a Hollywood brat
Origin of brat
ME, cloak of coarse cloth from Old English
bratt
from Gael, mantle, cloth, rag: present sense uncertain or unknown; perhaps from child's bib or apron
Informal
a link of bratwurst
---
brat
noun
A child, especially a spoiled or ill-mannered one.
A child of a career military person.
Origin of brat
Possibly from
brat
coarse garment
from
Middle English
from
Old English
bratt
of Celtic origin
Related Forms:
---
brat

Noun
(plural brats)
A child (as a pejorative term); offspring.

Get that little brat away from me!
Origin
Origin uncertain. According to the Online Etymology Dictionary, the term "brat" derives from an Old English (Old English) slang term meaning "beggar's child". Originally a dialectal word, from northern and western England and the Midlands, for a "makeshift or ragged garment"; probably the same word as Old English bratt ("cloak"), which is from a Celtic source (compare Old Irish bratt ("cloak, cloth")).
See also:
Brät
---