noun
The definition of an apron is something that is worn to protect the front part of the body or to keep clothes from getting soiled.

A pinafore is an example of an apron.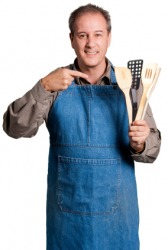 A man wearing an apron.
---
apron definition by Webster's New World
noun
a garment of cloth, leather, etc. worn over the front part of the body, usually to protect one's clothes
anything like an apron in appearance or use; specif.,

a covering or extending part for protecting or shielding a structure, machine, etc.
a waterproof protecting shield in an open vehicle
the hard-surfaced area, often paved, in front of or next to the terminal or hangars of an airport
a broadened part of an automobile driveway, as where it joins the roadway
the part of a proscenium stage in front of the arch
an endless belt for carrying things
a protective work of planking or other material along a river bank, below a dam, etc.
Origin: by faulty separation of a napron ; from Middle English napron ; from Old French naperon ; from nape, a cloth ; from Classical Latin mappa, napkin
transitive verb
to put an apron on or provide an apron for
Webster's New World College Dictionary Copyright © 2010 by Wiley Publishing, Inc., Cleveland, Ohio. Used by arrangement with John Wiley & Sons, Inc.
---
apron definition by American Heritage Dictionary
noun
a. A garment, usually fastened in the back, worn over all or part of the front of the body to protect clothing.

b. Something, such as a protective shield for a machine, that resembles this garment in appearance or function.

The paved strip in front of and around airport hangars and terminal buildings.
The part of a stage in a theater extending in front of the curtain.
A platform, as of planking, at the entrance to a dock.

a. A covering or structure along a shoreline for protection against erosion.

b. A platform serving a similar purpose below a dam or in a sluiceway.

A continuous conveyor belt.
An area covered by sand and gravel deposited at the front of a glacial moraine.
A border of slightly longer grass that surrounds a green on a golf course.
The part of a boxing ring floor that extends beyond the ropes.
transitive verb
a·proned
,
a·pron·ing
,
a·prons
To cover, protect, or provide with an apron.
Origin: Middle English, from an apron, alteration of a napron, from Old French naperon, diminutive of nape, tablecloth, from Latin mappa, napkin; see map.
The American Heritage® Dictionary of the English Language, 4th edition Copyright © 2010 by Houghton Mifflin Harcourt Publishing Company. Published by Houghton Mifflin Harcourt Publishing Company. All rights reserved.
---
apron - Science Definition
An area covered by a blanketlike deposit of glacial, eolian, marine, or alluvial sediments, especially an area at the foot of a mountain or in front of a glacier.