apron

a·pron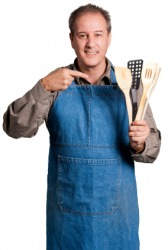 A man wearing an apron.
noun
The definition of an apron is something that is worn to protect the front part of the body or to keep clothes from getting soiled.

A pinafore is an example of an apron.
---
apron
a garment of cloth, leather, etc. worn over the front part of the body, usually to protect one's clothes
anything like an apron in appearance or use; specif.,

a covering or extending part for protecting or shielding a structure, machine, etc.
a waterproof protecting shield in an open vehicle
the hard-surfaced area, often paved, in front of or next to the terminal or hangars of an airport
a broadened part of an automobile driveway, as where it joins the roadway
the part of a proscenium stage in front of the arch
an endless belt for carrying things
a protective work of planking or other material along a river bank, below a dam, etc.
Origin of apron
by faulty separation of
a napron
from Middle English
napron
from Old French
naperon
from
nape
, a cloth from Classical Latin
mappa
, napkin
to put an apron on or provide an apron for
---
apron
noun
A garment, usually fastened in the back, worn over all or part of the front of the body to protect clothing.
Something that resembles this garment in appearance or function, especially:

a. A protective shield for a machine.

b. The paved strip in front of and around airport hangars and terminal buildings.

c. The part of a stage in a theater extending in front of the curtain.

d. A platform, as of planking, at the entrance to a dock.

e. An upper rail or carved panel extending between the legs of a piece of furniture, as beneath a tabletop or chair seat.

f. A piece of horizontal trim mounted beneath an interior windowsill.

g. A covering or structure along a shoreline for protection against erosion or a platform serving a similar purpose below a dam or in a sluiceway.

h. An area covered by sand and gravel deposited at the front of a glacial moraine.

i. A continuous conveyor belt.

j. A border of slightly longer grass that surrounds a green on a golf course.

k. The part of a boxing ring floor that extends beyond the ropes.
transitive verb
a·proned, a·pron·ing, a·prons
To cover, protect, or provide with an apron.
Origin of apron
Middle English
from
an apron
alteration of
a napron
from
Old French
naperon
diminutive of
nape
tablecloth
from
Latin
mappa
napkin
; see
map
.
apron
late 17th-century to early 18th-century Chinese lacquered table
---
apron

Noun
(plural aprons)
A hard surface bordering a structure or area.

The paved area of an airport, especially the area where aircraft park away from a terminal
The spreading end of a driveway.
The paved area below the yellow line on a race track.
The loading, parking or roadway area immediately beside a railway station

The sides of a tree's canopy.
---