smock

smock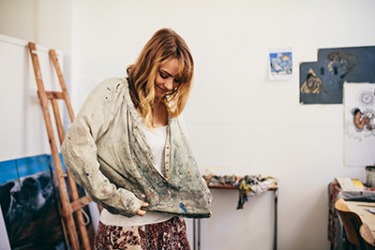 Marisa puts on her favorite smock when she works on her paintings.
noun
The definition of a smock is a loose dress or blouse that you wear over your clothing to protect the clothing.

A loose cotton shirt that you put on that covers the front and back of your clothes is an example of a smock.
verb
Smock is to decorate clothing or other items by gathering fabric to one-third of its width and then sewing over the gathers so that the fabric can stretch.

An example of smock is to gather pleats of fabric around the neck and sleeves of a garment in the Middle Ages.
---
smock
a long, loose, shirtlike outer garment worn to protect the clothes

Archaic

a chemise, or sliplike undergarment
a loose-fitting woman's or girl's dress or top having smocking at the bust
Origin of smock
Middle English
smoc
from Old English
smoc
or Old Norse
smokkr
from Indo-European an unverified form
(s)meugh
from base an unverified form
meug-
, slippery, to slip, slip on from source smuggle, meek, Classical Latin
mucus
to dress in a smock
to decorate with smocking
---
smock
noun
A loose coatlike outer garment, often worn to protect the clothes while working.
transitive verb
smocked, smock·ing, smocks
To clothe in a smock.
To decorate (fabric) with smocking.
Origin of smock
Middle English
woman's undergarment
from
Old English
smoc
---
smock

---