gown

gown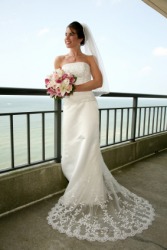 A woman poses in her wedding gown.
noun
The definition of a gown is a long, loose-fitting dress or robe.

Your wedding dress is an example of a gown.
Your long silky nightdress that you sleep in is an example of a gown.
The black cloak you wear when you graduate from high school is an example of a gown.
---
gown
a long, loose outer garment; specif.,

dressing gown
a nightgown, nightshirt, etc.
a cotton smock worn by a surgeon
a flowing robe worn as a symbol of office or status by certain officials, members of the clergy, scholars, etc.

a woman's long dress, esp. one that is elegant or formal
the members of a college or university as distinct from the other residents of the community: conflicts between town and gown
Origin of gown
Middle English
goune
from Old French from Late Latin
gunna
, loose robe, origin, originally , fur cloak
to dress in a gown, as in an academic or ecclesiastic robe
---
gown
noun
A long loose flowing garment, such as a robe or nightgown.
A long, usually formal dress.
A robe or smock worn in operating rooms and other parts of hospitals as a guard against contamination.
A distinctive outer robe worn on ceremonial occasions, as by scholars or clerics.
The faculty and student body of a university: perfect accord between town and gown.
transitive verb
gowned, gown·ing, gowns
To clothe (oneself or another) with a gown.
Origin of gown
Middle English
goune
from
Old French
from
Late Latin
gunna
leather garment
---
gown

Noun
(plural gowns)
A loose, flowing upper garment.
A woman's ordinary outer dress, such as a calico or silk gown.
The official robe of certain professional men and scholars, such as university students and officers, barristers, judges, etc.

The dress of civil officers, as opposed to military officers.

(by metonymy) The university community.

In the perennial town versus gown battles, townies win some violent battles, but the collegians are winning the war.

A loose wrapper worn by gentlemen within doors; a dressing gown.
Any sort of dress or garb.
The robe worn by a surgeon.
Verb
(third-person singular simple present gowns, present participle gowning, simple past and past participle gowned)
Origin
Anglo-Norman gune, goune ("fur-trimmed coat, pelisse"), from Old French goune, from Late Latin gunna ("leather garment, a fur"), from Ancient Greek γούνα (goúna, "coarse garment"), of unknown origin. Perhaps from a Balkan language.
---