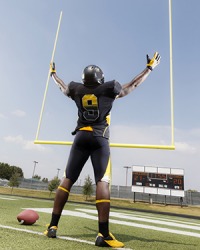 The football player is smug when he scores the touchdown.
adjective
The definition of smug is the showing of extreme satisfaction with oneself.

An example of smug is a man with six pack abs showing them off to any and every one.
---
smug
adjective
smug′ger

,

smug′gest
Archaic

neat, spruce, trim, etc.
narrowly contented with one's own accomplishments, beliefs, morality, etc.; self-satisfied to an annoying degree; complacent
Origin of smug
probably from Low German
smuk
, trim, neat, akin to German
schmuck
, neat: for Indo-European base see smock
---
smug
adjective
smug·ger, smug·gest
Exhibiting or feeling great or offensive satisfaction with oneself or with one's situation; self-righteously complacent: a smug look; a smug critic.
Origin of smug
Perhaps akin to
Low German
smuck
neat
from
Middle Low German
from
smucken
to adorn
Related Forms:
---
smug

---