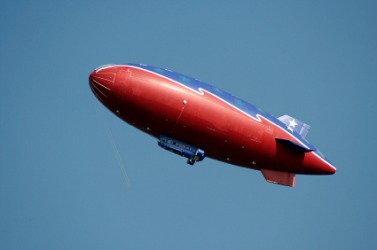 A red and blue blimp.
Licensed from iStockPhoto
---
noun
a nonrigid or semirigid airship

Origin: after Col. Blimp, creation of Sir David Low

a pompous, smug, highly conservative person
Origin: echoic of sound caused by thumping the airship bag with a finger: probably coined (1915) by A. D. Cunningham, British Navy Air Force
Webster's New World College Dictionary
Copyright © 2010 by Wiley Publishing, Inc., Cleveland, Ohio.
Used by arrangement with John Wiley & Sons, Inc.
---
noun
A nonrigid, buoyant airship.
Slang An obese person.
intransitive verb
Slang To become very fat. Often used with out: He's really blimped out since he got that desk job.
Origin: Perhaps from limp.
noun
Chiefly British
A pompous, reactionary, ultranationalistic person.
Origin: After Colonel Blimp, a cartoon character invented by David Low (1891-1963).
Related Forms:
The American Heritage® Dictionary of the English Language
, 4th edition Copyright © 2010 by Houghton Mifflin Harcourt Publishing Company. Published by Houghton Mifflin Harcourt Publishing Company. All rights reserved.