adjective
The definition of neat is something considered cool or awesome.

An example of something neat is a well-planned and well-executed project.

Neat is defined as someone or something that is tidy, well-formed or well-done.

A room where everything is put away is an example of a neat room.
A person who always has clean clothes and who is always well-groomed is an example of a neat person.
A perfectly drawn straight line is an example of a neat line.
A really cool new painting is an example of a neat painting.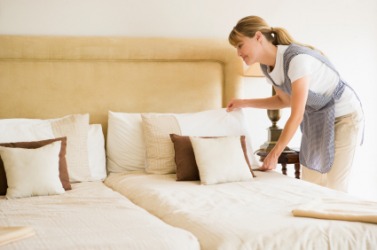 A maid makes sure this hotel room is neat.
---
neat definition by Webster's New World
adjective
unmixed with anything; undiluted; straight: said esp. of liquor drunk without a mixer or chaser

Rare

free of deductions; net

clean and in good order; trim; tidy
characterized by tidiness, skill, and precision: a neat worker
without anything superfluous; simple

well-proportioned; shapely
cleverly or smartly phrased or done

Slang

nice, pleasing, fine, etc.: a generalized term of approval
Origin: French net ; from Classical Latin nitidus, shining, elegant, smart, trim ; from nitere, to shine ; from Indo-European base an unverified form nei-, to be active, shine from source Middle Irish nīam, luster, beauty
noun
pl.
neat
Now Rare
a bovine animal; ox, cow, etc.
Origin: Middle English nete ; from Old English neat (akin to Old Norse naut, Dutch noot) ; from base of neotan, to enjoy, possess ; from Indo-European base an unverified form neud-, to make use of from source Lithuanian naudà, benefit, possessions
Webster's New World College Dictionary Copyright © 2010 by Wiley Publishing, Inc., Cleveland, Ohio. Used by arrangement with John Wiley & Sons, Inc.
---
neat definition by American Heritage Dictionary
adjective
neat·er
,
neat·est
Orderly and clean; tidy.
Orderly and precise in procedure; systematic.
Marked by ingenuity and skill; adroit: a neat turn of phrase.
Not diluted or mixed with other substances: neat whiskey.
Left after all deductions; net: neat profit.
Slang Wonderful; terrific: That was a neat party.
Origin: Anglo-Norman neit, clear, pure, variant of Old French net, from Latin nitidus, elegant, gleaming, from nitēre, to shine.
Related Forms:
noun
pl.
neat
neat
Archaic
A cow or other domestic bovine animal.
Origin: Middle English net, from Old English nēat.
neat
Variant of neat
adjective
unmixed with anything; undiluted; straight: said esp. of liquor drunk without a mixer or chaser

Rare

free of deductions; net

clean and in good order; trim; tidy
characterized by tidiness, skill, and precision: a neat worker
without anything superfluous; simple

well-proportioned; shapely
cleverly or smartly phrased or done

Slang

nice, pleasing, fine, etc.: a generalized term of approval
Origin: French net ; from Classical Latin nitidus, shining, elegant, smart, trim ; from nitere, to shine ; from Indo-European base an unverified form nei-, to be active, shine from source Middle Irish nīam, luster, beauty