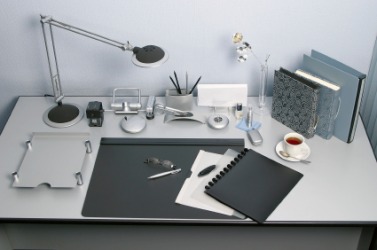 An orderly desk.
adjective
The definition of orderly is something that is tidy or organized in a system, or that follows the rules.

A filing system with all files in alphabetical order is an example of something orderly.
A crowd that is peacefully protesting is an example of something orderly.
noun
An orderly is a man working as an attendant at a hospital or medical care center.

The man who helps patients at a nursing home is an example of an orderly.
---
orderly
neat or tidy in arrangement; in good order
arranged in, conforming to, or exhibiting some regular order; systematic

well-behaved; law-abiding; peaceful
having to do with the recording and transmission of military orders, records, etc.: the orderly room
in regular or proper order; methodically
noun
pl.
-·lies
Mil.

an enlisted person assigned to perform personal services for an officer or officers or to carry out a specific task: latrine orderly
a male hospital attendant
---
orderly
adjective
a. Free from disorder; neat or well-arranged: an orderly room.

b. Having a systematic arrangement: a garden with orderly rows.

a. Given to keeping things neat or well-arranged: an orderly housekeeper.

b. Adhering or conforming to a method or system: an orderly researcher.

Devoid of violence or disruption; peaceful: an orderly transition of governments.
noun
pl.
or·der·lies
An attendant who does routine, nonmedical work in a hospital.
A soldier assigned to attend and perform various tasks for a superior officer.
adverb
Systematically; regularly.
Related Forms:
---
orderly

---