order

or·der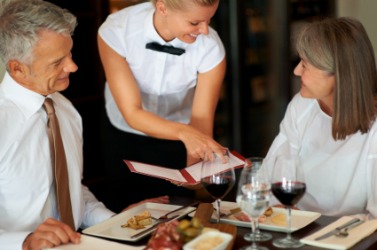 A waiter assists a couple with their restaurant order.
noun
Order is a state of peace or things being in the right place.

An example of order is the feeling in a child's room when all the toys are put away.

The definition of an order is a position, rank or arrangement of people or things.

An example of order is people being served food according to when they arrived in a restaurant.
An example of order is the names of fruit being listed by where their first letter occurs in the alphabet.
verb
Order is defined as to organize or arrange people or things or command or ask someone to do something.

An example of order is lining people up by their height.
An example of order is asking for menu items at a restaurant.
---
order
social position; rank in the community
a state of peace and serenity; observance of the law; orderly conduct
the sequence or arrangement of things or events; series; succession
a fixed or definite plan; system; law of arrangement
a group or class of persons set off from others by some trait or quality

a group of persons constituting an association formed for some special purpose: the Order of Knights Templars
an association of monks, nuns, etc. following a rule: the Benedictine order

a group of persons distinguished by having received a certain award or citation, as for outstanding service to a state: the Order of the Garter
the insignia of such a group

a state or condition in which everything is in its right place and functioning properly; specif., a condition conforming to established rules of orderly procedure, as in a court, legislative body, etc.
condition or state in general: not in working order
a command, direction, or instruction, usually backed by authority
a distinctive group; class; kind; sort: paintings of the highest order
an established method or system, as of conduct or action in meetings, worship, court, etc.

a request or commission to make or supply something: an order for merchandise or services
the goods so made or supplied: to deliver a grocery order
a single portion of some food, as served in a restaurant: an order of cole slaw

Archit.

any of several classical styles of structure, determined chiefly by the type of column and entablature
a style of building

Biol.

a major category in the classification of animals, plants, etc., ranking above a family and below a class: it can include one family or many similar families: the Latinized order names are capitalized but not italicized (Ex.: Fabales, legumes)

Finance

written instructions to pay money or surrender property
a formal demand for payment, as by the endorsement and presentment of a negotiable instrument by its specified payee

Gram.

the arrangement or sequence of elements within a grammatical unit

Law

a direction or command of a court, judge, public body, etc.

Math.

a whole number describing the degree or stage of complexity of an algebraic expression
an established sequence of numbers, letters, events, units, etc.
the number of elements in a given group
the number of rows or columns in a determinant or matrix

Theol.

any of the nine ranks or grades of angels
any rank or grade in the Christian clergy
[usually pl.] the position of ordained minister, priest, etc.
[usually pl.] ordination, as of a minister or priest
holy orders
Origin of order
Old French
ordre
from Classical Latin
ordo
(gen.
ordinis
), straight row, regular series, akin to
ordiri,
to lay the warp, hence begin, set in order, probably from Indo-European base an unverified form
ar-,
to join, fit from source arm, art
to put or keep in order; organize; arrange

to instruct to do something; give an order to; command
to command (someone) to go to or from a specified place: to order him out of the house

to request or direct that (something) be supplied, done, carried out, etc.: to order merchandise, to order a hearing

Archaic, Eccles.

to ordain (a priest, etc.)
to give a command
to request that something be supplied
used to call for quiet and orderly conduct, as to begin a formal meeting
by order of
according to the command of
call to order
to request to be quiet, as to start (a meeting)
in order
as a means to; so as to; to: followed by an infinitive: reduce spending in order to eliminate debt
in (or out of) order
in (or not in) proper sequence or position
in (or not in) good or working condition
in (or not in) accordance with the rules, as of parliamentary procedure
being (or not being) suitable to the occasion
on order
ordered, or requested, but not yet supplied
on the order of
somewhat resembling; similar to
approximately; roughly
order around
to treat in a domineering manner
tall order
Informal
a difficult task or requirement
to order
in accordance with the buyer's specifications
---
order
noun
A condition of logical or comprehensible arrangement among the separate elements of a group.

a. A condition of methodical or prescribed arrangement among component parts such that proper functioning or appearance is achieved: checked to see that the shipping department was in order.

b. Condition or state in general: The escalator is in good working order.

a. The established system of social organization: "Every revolution exaggerates the evils of the old order" ( C. Wright Mills )

b. A condition in which freedom from disorder or disruption is maintained through respect for established authority: finally restored order in the rebellious provinces.

A sequence or arrangement of successive things: changed the order of the files.
The prescribed form or customary procedure, as in a meeting or court of law: The bailiff called the court to order.
An authoritative indication to be obeyed; a command or direction.

a. A command given by a superior military officer requiring obedience, as in the execution of a task.

b. orders Formal written instructions to report for military duty at a specified time and place.

a. A commission or instruction to buy, sell, or supply something.

b. That which is supplied, bought, or sold.

a. A request made by a customer at a restaurant for a portion of food.

b. The food requested.

Law A directive or command of a court.
Ecclesiastical

a. Any of several grades of the Christian ministry: the order of priesthood.

b. often orders The rank of an ordained Christian minister or priest.

c. often orders The sacrament or rite of ordination.

Any of the nine grades or choirs of angels.
A group of persons living under a religious rule: Order of Saint Benedict.
An organization of people united by a common fraternal bond or social aim.

a. A group of people upon whom a government or sovereign has formally conferred honor for unusual service or merit, entitling them to wear a special insignia: the Order of the Garter.

b. The insignia worn by such people.

often orders A social class: the lower orders.
A class defined by the common attributes of its members; a kind.
Degree of quality or importance; rank: poetry of a high order.
Architecture

a. Any of several styles of classical architecture characterized by the type of column and entablature employed. Of the five generally accepted classical orders, the Doric, Ionic, and Corinthian orders are Greek and the Tuscan and Composite orders are Roman.

b. A style of building: a cathedral of the Gothic order.

Biology A taxonomic category of organisms ranking above a family and below a class.
Mathematics

a. The sum of the exponents to which the variables in a term are raised; degree.

b. An indicated number of successive differentiations to be performed.

c. The number of elements in a finite group.

d. The number of rows or columns in a determinant or matrix.
verb
or·dered, or·der·ing, or·ders
verb
transitive
a. To issue a command or instruction to: ordered the sailors to stow their gear.

b. To direct to proceed as specified: ordered the intruders off the property.

a. To give a command or instruction for: The judge ordered a recount of the ballots.

b. To request to be supplied with: order eggs and bacon for breakfast.

To put into a methodical, systematic arrangement: ordered the books on the shelf. See Synonyms at arrange.
To predestine; ordain.
verb
intransitive
To give an order or orders; request that something be done or supplied.
Origin of order
Middle English
ordre
from
Old French
variant of
ordene
from
Latin
ōrdō
ōrdin-
; see
ar-
in Indo-European roots.
Related Forms:
---
order - Computer Definition
---
order - Legal Definition
n
A command, instruction, or direction by the court or by a judge intended to adjudicate some point or to direct some step in a legal proceeding.
final order
An order that disposes of the entire case, but may be appealed to a higher court. See also
judgment
.
interlocutory order
An order relating to only a portion of the case, but not a   final disposition.
restraining order
See restraining order.
show-cause order
An order requiring a person to appear in court and explain why certain relief should not be granted.
---