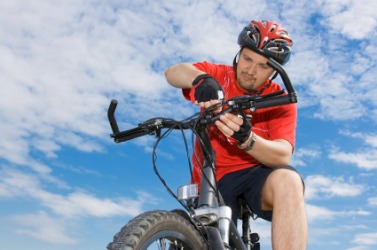 A man adjusts the handlebars on his bicycle.
verb
The definition of adjust means to change something to a better fit or to be more usable.

An example of adjust is to tighten the handlebars on a bicycle.
---
adjust
to change so as to fit, conform, make suitable, etc.
to make accurate by regulating: to adjust a watch
to settle or arrange rightly: to adjust accounts
to resolve or bring into accord: to adjust differences
to decide how much is to be paid in settling (an insurance claim)

Mil.

to correct (the gun sight, one's aim, etc.) in firing
Origin of adjust
Middle English
ajusten
from Old French
ajoster
, to join from
a-
, to +
joster
(see joust); influenced, influence by Old French
juste
from Classical Latin
justus
, just
to come into conformity, as with one's surroundings; become suited, as to one's associates, circumstances, etc.
---
adjust
verb
ad·just·ed, ad·just·ing, ad·justs
verb
transitive
a. To move or change (something) so as to be in a more effective arrangement or desired condition: adjust the timing of a car's engine; adjust a hearing aid to amplify lower frequencies.

b.

To change so as to be suitable to or conform with something else:

adjusted the schedule to allow for everyone's vacation plans; adjusted the old monetary figures to account for inflation.

See Synonyms at

adapt

.

In chiropractic medicine, to manipulate (the spine and other body structures) to treat disorders and restore normal function of the nervous system.
To decide how much is to be paid on (an insurance claim).
verb
intransitive
To become adapted or accustomed, as to a new situation: Have you adjusted to working with your new colleagues?
Origin of adjust
Obsolete French
adjuster
from
Old French
ajoster
from
Vulgar Latin
adiūxtāre
to put close to
Latin
ad-
ad-
Latin
iūxtā
near
; see
yeug-
in Indo-European roots.
Related Forms:
ad·just′er ad·jus′tor

noun
---
adjust

Verb
(third-person singular simple present adjusts, present participle adjusting, simple past and past participle adjusted)
---