compound

com·pound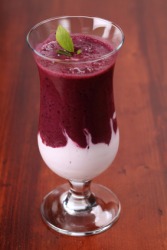 A compound would be this drink.
noun
The definition of a compound is something that contains two or more parts.

An example of compound is a mixed cocktail.
verb
Compound means to mix multiple ingredients together or make something bigger.

An example of compound is to blend grass clippings, leaves and vegetable matter for compost.
An example of compound is adding rocks to a rock pile.
An example of compound is to gain interest on money in a savings account.
---
compound
to mix or combine
to make by combining parts or elements
to settle by mutual agreement; specif., to settle (a debt) by a compromise payment of less than the total claim
to compute (interest) on the sum of the principal and the accumulated interest which has accrued at regular intervals: interest compounded semiannually
to increase or intensify by adding new elements: to compound a problem
Origin of compound
Middle English
compounen
from Old French
compon(d)re,
to arrange, direct from Classical Latin
componere
, to put together: see composite
to agree
to compromise with a creditor
to combine and form a compound
made of two or more separate parts or elements
a thing formed by the mixture or combination of two or more parts or elements
a substance containing two or more elements chemically combined in fixed proportions
a word composed of two or more base morphemes, whether hyphenated or not: English compounds are usually distinguished from phrases by reduced stress on one of the elements and by changes in meaning (Ex.: blackbird, blackbird; grandaunt, grandaunt)
compound a felony (or crime)
Origin of compound
< compoundtransitive verb
to agree, for a bribe or repayment, not to inform about or prosecute for a felony (or crime): it is an illegal act
kampong
an enclosed space with a building or group of buildings within it
Origin of compound
Anglo-Indian from Malay
kampong,
enclosure
---
compound
verb
com·pound·ed, com·pound·ing, com·pounds
verb
transitive
To combine so as to form a whole; mix: Tin was often compounded with lead to make pewter.
To produce or create by combining two or more ingredients or parts; compose or make up: pharmacists compounding prescriptions.
To settle (a debt, for example) by agreeing on an amount less than the claim; adjust.
To compute (interest) on the principal and accrued interest.

a.

To add to or intensify so as to make worse:

"The university authorities … compounded their crime in dismissing

[the professor]

by denying that their action … reflected any abridgment of academic freedom"

(

John Kenneth Galbraith

)

b. To make worse by being an additional or intensifying factor: High winds compounded the difficulties of the firefighters.
verb
intransitive
To combine in or form a compound.
To come to terms; agree.
adjective
Consisting of two or more substances, ingredients, elements, or parts.
Botany Composed of more than one part: a compound pistil.
noun
A combination of two or more elements or parts.
Linguistics A word that consists either of two or more elements that are independent words, such as loudspeaker, self-portrait, or high school, or of specially modified combining forms of words, such as Greek philosophia, from philo-, "loving," and sophia, "wisdom."
Chemistry A pure, macroscopically homogeneous substance consisting of atoms or ions of two or more different elements in definite proportions that cannot be separated by physical means. A compound usually has properties unlike those of its constituent elements.
Origin of compound
Alteration of
Middle English
compounen
from
Old French
componre, compondre
to put together
from
Latin
compōnere
; see
component
.
Related Forms:
com·pound′a·ble

adjective
noun
A building or buildings, especially a residence or group of residences, set off and enclosed by a barrier.
An enclosed area used for confining prisoners of war.
Origin of compound
Alteration of
Malay
kampong
village
---
compound

---
compound - Legal Definition
v
To determine the interest on the principal and on whatever interest has already accrued.
To settle a claim or debt for an amount less than what is alleged to be due.
To agree, in exchange for consideration, not to prosecute a crime or seek punishment for the convicted criminal. See also compounding a crime.
---