nicotine
[nik′ə tēn′, nik′ə tēn′]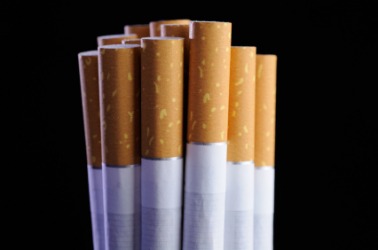 The tobacco in these cigarettes contains nicotine.
---
nicotine
noun
a toxic, addictive, water-soluble alkaloid, CHN, found in tobacco leaves
Origin of nicotine
French ; from
nicotiane
, the tobacco plant ; from Modern Latin
nicotiana (herba)
, Nicot's (plant), after Jean
Nicot
(1530-1600), French ambassador at Lisbon, who first introduced tobacco into France (1560)
---
nicotine
noun
A colorless, poisonous alkaloid, C10H14N2, derived from the tobacco plant and used as an insecticide. It is the substance in tobacco to which smokers can become addicted.
Origin of nicotine
French, from New Latin
nicotiāna
; see
nicotiana
.
---
nicotine
Noun
(usually uncountable, plural nicotines)
(chemistry) An alkaloid (C10H14N2), commonly occurring in the tobacco plant. In small doses it is a habit-forming stimulant; in larger doses it is toxic and is often used in insecticides.
---