combination

com·bi·na·tion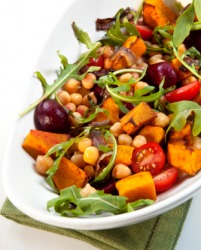 This salad is a combination of many different ingredients.
noun
The definition of a combination is something created by joining or mixing two or more people or things together, or a series of numbers used to open a lock.

An example of a combination is a classroom of both mental and physical learning activities.
An example of a combination is a salad with veggies, nuts, seeds and fruit.
An example of a combination is a series of numbers entered into a lock in order for the lock to open.
---
combination
a combining or being combined
a thing formed by combining
an association of persons, firms, political parties, etc. for a common purpose

the series of numbers or letters used in opening a combination lock
the mechanism operating such a lock

a one-piece undergarment combining an undershirt and drawers

Chem.

a uniting of substances to form a compound

Math.

any of the various groupings, or subsets, into which a number, or set, of units may be arranged without regard to order: dual combinations of A, B, C, and D are AB, AC, AD, BC, BD, CD

Pool

a shot in which an object ball is pocketed as a result of being struck by another object ball
Origin of combination
Middle English
combinacioun
from Late Latin
combinatio,
a joining two by two
---
combination
noun
The act of combining or the state of being combined.
The result of combining.
An alliance of persons or parties for a common purpose; an association.
A sequence of numbers or letters used to open a combination lock.
Mathematics One or more elements selected from a set without regard to the order of selection.
Related Forms:
com′bi·na′tion·al

adjective
---
combination

Noun
(plural combinations)
Origin
From Old French combination, from Late Latin combinatio.
---