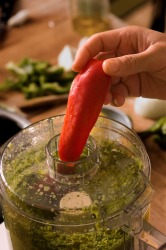 A food processor is used to mix these ingredients.
verb
To mix is defined as to combine, join, blend or put together two or more things.

An example of to mix is using a food processor to blend ingredients together for a curry paste.
---
mix
to put or blend together in a single mass, collection, or compound
to make by putting ingredients together: to mix a cocktail
to join; combine: to mix work and play
to cause to join or associate: to mix the fourth- with the fifth-graders at recess
to hybridize
to combine or blend electronically (the various sounds of a recording or live performance) on (a tape, record, etc.)
Origin of mix
probably back-formation from
mixt,
mixed, taken as past participle from French
mixte
from Classical Latin
mixtus,
past participle of
miscere,
to mix (from source Old English
miscian
) from Indo-European base an unverified form
meik-
from source Classical Greek
meignynai,
Welsh
mysgu,
to mix
to be mixed or capable of being mixed; be blended; mingle
to associate or get along: to mix with other people
to hybridize
a mixing or being mixed
a muddle; state of confusion

a product of mixing; mixture: cement mix
a commercial mixture of ingredients for preparing a food, usually by adding liquid: cake mix

mixer (sense )
the blend or combination of sounds in a recording or live performance
a mixture of dissimilar components, elements, parts, ideas, etc.
mix up
to mix thoroughly; mingle together
to confuse; specif.,

to cause confusion in
to mistake for another (with with)

: usually used in the passive

to involve or implicate (in something regarded as inappropriate, disreputable, etc.)
to involve or associate (with someone regarded as inappropriate, disreputable, etc.)
mix it up
Slang
to fight with or as with the fists
---
mix
verb
mixed, mix·ing, mix·es
verb
transitive
a. To combine or blend into one mass or mixture: Mix the dry ingredients first.

b. To create or form by combining ingredients: mix a drink; mix cement.

c. To add (an ingredient or element) to another: mix an egg into batter.

To combine or join: mix joy with sorrow.
To bring into social contact: mix boys and girls in the classroom.
To produce (an organism) by crossbreeding.

a. To combine (two or more audio tracks or channels) to produce a composite audio recording.

b. To produce (a soundtrack or recording) in this manner.
verb
intransitive
a. To become combined or blended together: Stir until the eggs mix with the flour.

b. To be capable of being blended together: Oil does not mix with water.

To associate socially or get along with others: He does not mix well at parties.
To mate so as to produce a hybrid; crossbreed.
To become involved: In the case of a family argument, a friend should not mix in.
noun
a. A combination of diverse elements: The downtown has a good mix of stores and restaurants.

b. A mixture of ingredients packaged and sold commercially: a cake mix.

c. A recording that is produced by combining and adjusting two or more audio tracks or channels.

An animal resulting from interbreeding, especially a dog or cat of mixed breed.
Phrasal Verbs:
mix down
To combine all of the audio components of a recording into a final soundtrack or mix.
mix up
To confuse; confound:
His explanation just mixed me up more. I always mix up the twins.
To involve or implicate:
He got himself mixed up with the wrong people.
Origin of mix
Back-formation from
Middle English
mixt, mixed
mixed
from
Anglo-Norman
mixte
from
Latin
mixtus
past participle of
miscēre
to mix
; see
meik-
in Indo-European roots.
Related Forms:
---
mix

---
mix - Computer Definition
(1) (Multimedia Internet EXchange) An Internet access point that supports quality of service (QoS) for multimedia traffic. See NAP and MPLS.
(2) (Medical Information EXchange System) A health information exchange (HIE) system for Windows from SETECS Medical Technologies (www.setecs.com). MIX enables interfacing to any EMR/EHR system that supports the HL7 messaging standard. Issued to both patients and healthcare providers, PIV-compliant smart cards provide strong security (see PIV).
---