noun
The definition of a blend is a mixture of things.

An example of a blend is a type of coffee that combines two different types of coffee beans.
verb
Blend is defined as to combine things in a harmonious manner.

An example of to blend is to match the styles and colors of various pieces of furniture when decorating.

Blend means to look like your environment.

An example of to blend in is when an animal's fur closely matches its surroundings.

To blend is to combine things into one.

An example of to blend is to mix the ingredients of a cake together.
An example of to blend is to add yellow paint to red paint to make an orange color.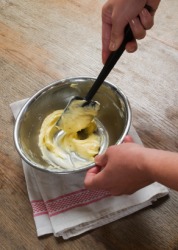 A woman blends cake ingredients together.
---
blend definition by Webster's New World
transitive verb
blended or blent, blending
to mix or mingle (varieties of tea, tobacco, etc.), esp. so as to produce a desired flavor, color, grade, etc.
to mix or fuse thoroughly, so that the parts merge and are no longer distinct: green results from blending blue and yellow
Origin: Middle English blenden ; from Old English blendan and amp; Old Norse blanda, to mix ; from Indo-European base an unverified form bhlendh-, to glimmer indistinctly from source blind, blunder
intransitive verb
to mix, merge, or unite
to pass gradually or imperceptibly into each other, as colors
to go well together; harmonize
noun
the act of blending; thorough mixing
the result of blending; a mixture or merger of varieties, kinds, types, etc.: a blend of coffee
☆

Linguis.

a word formed by combining parts of other words (Ex.: galumph, smog)
Webster's New World College Dictionary Copyright © 2010 by Wiley Publishing, Inc., Cleveland, Ohio. Used by arrangement with John Wiley & Sons, Inc.
---
blend definition by American Heritage Dictionary
verb
blend·ed
or
blent
,
blend·ing
,
blends
verb
, transitive
To combine or mix so that the constituent parts are indistinguishable from one another: "He has no difficulty blending his two writing careers: novels and films" (Charles E. Claffey).
To combine (varieties or grades) to obtain a mixture of a particular character, quality, or consistency: blend tobaccos.
verb
, intransitive
To form a uniform mixture: "The smoke blended easily into the odor of the other fumes" (Norman Mailer).
To become merged into one; unite.
To create a harmonious effect or result: picked a tie that blended with the jacket. See Synonyms at mix.
noun
a. The act of blending.

b.

Something, such as an effect or a product, that is created by blending:

"His face shows, as he stares at the fire, a blend of fastidiousness and intransigence" (John Fowles).

See Synonyms at

mixture

.

Linguistics A word produced by combining parts of other words, as smog from smoke and fog.
Origin: Middle English blenden, probably from Old Norse blanda, blend-; see bhel-1 in Indo-European roots.