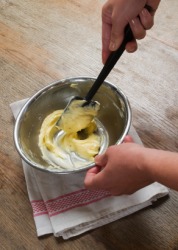 A woman blends cake ingredients together.
noun
The definition of a blend is a mixture of things.

An example of a blend is a type of coffee that combines two different types of coffee beans.
verb
Blend is defined as to combine things in a harmonious manner.

An example of to blend is to match the styles and colors of various pieces of furniture when decorating.

Blend means to look like your environment.

An example of to blend in is when an animal's fur closely matches its surroundings.

To blend is to combine things into one.

An example of to blend is to mix the ingredients of a cake together.
An example of to blend is to add yellow paint to red paint to make an orange color.
---
blend
to mix or mingle (varieties of tea, tobacco, etc.), esp. so as to produce a desired flavor, color, grade, etc.
to mix or fuse thoroughly, so that the parts merge and are no longer distinct: green results from blending blue and yellow
Origin of blend
Middle English
blenden
from Old English
blendan
and Old Norse
blanda,
to mix from Indo-European base an unverified form
bhlendh-
, to glimmer indistinctly from source blind, blunder
to mix, merge, or unite
to pass gradually or imperceptibly into each other, as colors
to go well together; harmonize
the act of blending; thorough mixing

the result of blending; a mixture or merger of varieties, kinds, types, etc.: a favorite blend of coffee
a mixture consisting chiefly of a (specified) fabric, ingredient, etc.: a cotton blend

Linguis.

a word formed by combining parts of other words (Ex.: galumph, smog)
---
blend
verb
blend·ed,
or
blent
blend·ing, blends
verb
transitive
To combine or mix (different substances) so that the constituent parts are indistinguishable from one another: blended the flour, milk, and eggs; blend gasoline with ethanol.
To combine (varieties or grades of the same substance) to obtain a mixture of a particular character, quality, or consistency: blend coffees.
To combine (different elements) into a single entity: a career that blends medicine and engineering. See Synonyms at mix.
verb
intransitive
To form a uniform mixture: "The smoke blended easily into the odor of the other fumes" ( Norman Mailer )
To be unobtrusive or harmonious by resembling the surroundings or behaving like others in a group. Often used with in: a female pheasant is brown and blends in with its nesting ground.
To create a harmonious effect or result: picked a tie that blended with the jacket.
noun
a. The act of blending: the writer's unique blend of fantasy and physics.

b. Something, such as an effect or a product, that is created by blending: "His face shows, as he stares at the fire, a blend of fastidiousness and intransigence" ( John Fowles )

Linguistics A word produced by combining parts of other words, as smog from smoke and fog.
Origin of blend
Middle English
blenden
probably from
Old Norse
blanda
blend-
; see
bhel-
1
in Indo-European roots.
---
blend

Noun
(plural blends)
A mixture of two or more things.

Their music has been described as a blend of jazz and heavy metal.
Our department has a good blend of experienced workers and young promise.

(linguistics) A word formed by combining two other words; a grammatical contamination, portmanteau word.
Verb
(third-person singular simple present blends, present participle blending, simple past and past participle blended, or (poetic) blent)
To mingle; to mix; to unite intimately; to pass or shade insensibly into each other.

To make hummus you need to blend chickpeas, olive oil, lemon juice and garlic.

(intransitive) To be mingled or mixed.
Origin
From Middle English blenden, either from Old English blandan, blondan or from Old Norse blanda ("to blend, mix") (which was originally a strong verb with the present-tense stem blend ; compare blendingr ("a blending, a mixture; a half-breed") ), whence also Danish blande, or from a blend of the Old English and Old Norse terms. Compare Gothic (blandan), Old Church Slavonic блєсти (blesti, "to go astray").
---