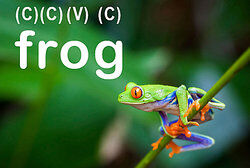 CCVC stands for Consonant Consonant Vowel Consonant. This is a spelling pattern that many English words use. CCVC word lists help with the acquisition of English language skills. Keep reading to find CCVC word lists as well as important phonics information and pointers.
CCVC Word Definition and Lists
CCVC words are different from CVC words, which follow a consonant-vowel-consonant pattern. Beginning readers who have mastered CVC words may be ready to move on to these word lists.
CCVC words have the following qualities:
double consonant beginning sounds
end in a consonant other than "w" or "y"
one syllable
can be nouns or verbs

There are two main categories of CCVC words, depending on their beginning consonant sounds. The following CCVC word lists provide a sampling of what words fall under these classifications.
CCVC Words With Beginning Consonant Blends
Many CCVC words include beginning consonant blends. Common beginning consonant blends include /fl/, /gl/, /sk/, /st/, and other blends in which both letter sounds can be heard. As the early learner progresses in mastering these blends, they are then introduced into the CCVC words themselves.
If you'd like to print this list for easy reference, download and print out the PDF below. It's a great way to keep students practicing their CCVC words.

CCVC Words

bled

grab

slob

blob

grid

slot

blog

grim

smog

brag

grin

smug

brat

grip

snap

clan

plan

snip

clam

plop

snug

clap

plot

span

clog

plug

spin

club

plum

spit

crab

plus

spot

crib

prep

spun

crop

prim

spur

drag

prop

star

drip

scab

step

drop

scar

stir

drum

scum

stop

flag

skid

stun

flap

skin

swam

flat

skip

swan

flex

skit

swim

flip

slab

tram

fled

slam

trap

frog

slap

trim

from

sled

trip

glad

slid

trot

glen

slim

twig

glob

slip

twin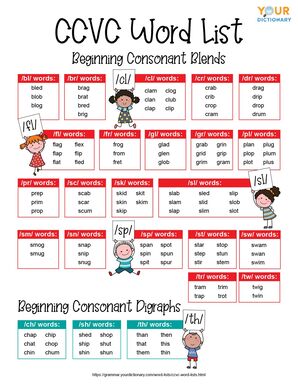 CCVC Words With Beginning Consonant Digraphs
Consonant digraphs use two letters to create a new sound. These digraphs include words that begin with /ch/, /sh/, and /th/ sounds. CCVC words that start with consonant digraphs still have only one syllable and include a short vowel sound.
Some CCVC words that start with consonant digraphs include:

CCVC Words With Consonant Digraphs

chap

shed

than

chat

ship

that

chin

shin

them

chip

shop

then

chop

shut

this
The simplest words are learned early in life and are called regular words. Regular words are those words in which all the letters in a word represent their most common sounds. The second most difficult group of regular words are known as CCVC (consonant consonant vowel consonant) words.
One reason that CCVC words are considered among the most difficult regular words is the consonant blend at the beginning. As beginning readers and spellers tend to sound out individual sounds they associate with each letter, the learner may struggle to create a blended sound to produce the correct sound combination that matches the word.
Taking the word frog, for example. A beginning reader may sound the letters out loud one at a time: /ef/ /ar/ /oh/ /gee/. A possible initial pronunciation could be phonetically described as /ef/ /rog/. The early reader has already achieved a basic mastery of CVC words. It is easier to process frog as the initial consonant sound followed by a CVC construction (rog) that makes sense to them.
Regular evaluation of basic phonic mastery and spelling can determine normal childhood language development. It's important to investigate and evaluate failure to achieve a basic mastery of phonetics, as this may indicate learning disabilities or neurological factors. Use the above lists to regularly check students' progress when it comes to reading CCVC words.

Phonics remain a staple of early spelling and word recognition and CCVC words can present early challenges to young learners. Try a graduated approach to these more complicated regular words by building on the consonant combinations. You can then teach the incorporation of the blends into whole words.
Phonics Practice Makes Perfect