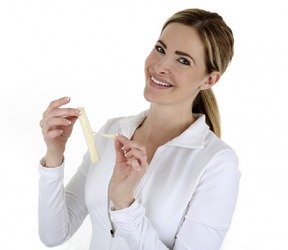 It is fun to separate the strands of string cheese before eating it.
adjective
Separate is defined as something or someone not connected to anything or anyone else.

An example of separate is an issue brought up at a meeting that isn't related to any other issues covered.
verb
The definition of separate is to pull apart, disconnect or divide.

An example of separate is pulling a piece of string cheese off of the whole piece of cheese.
An example of separate is removing the charger from an mp3 player.
An example of separate is when a husband and wife no longer live together.
---
separate
transitive verb
-·rat·ed

,

-·rat·ing
to set or put apart into sections, groups, sets, units, etc.; cause to part; divide; disunite; sever
to see the differences between; distinguish or discriminate between
to keep apart by being between; divide: a hedge that separates the yards
to bring about a separation between (a husband and wife)
to single out or set apart from others for a special purpose; sort; segregate
to take away (a part or ingredient) from a combination or mixture
to discharge; specif.,

to release from military service
to dismiss from employment

to dislocate (a body joint)
Origin of separate
Middle English
separaten
from Classical Latin
separatus
, past participle of
separare
, to separate from
se-
, apart (see secede) +
parare
, to arrange, prepare
to withdraw or secede: to separate from a party
to part, come or draw apart, or become disconnected
to part company; go in different directions; cease to associate
to stop living together as husband and wife; enter into a legal separation (sense )
to become distinct or disengaged, as from a mixture
to become dislocated, as a shoulder
set apart or divided from the rest or others; not joined, united, or connected; severed
not associated or connected with others; having existence as an entity; distinct; individual
thought of or regarded as having individual form or function: the separate parts of the body
of or for one only; not shared or held in common: separate beds

Archaic

withdrawn from others; solitary
offprint
[pl.] coordinated articles of dress worn as a set or separately in various combinations
---
separate
verb
sep·a·rat·ed, sep·a·rat·ing, sep·a·rates
verb
transitive
a. To set, force, or keep apart: The referee separated the two boxers.

b. To put space between; space apart or scatter: small farms that were separated one from another by miles of open land.

c. To form a border or barrier between (two areas or groups): A hedge separates the two yards.

d. To place in different groups; sort: separate mail by postal zones.

a. To differentiate or discriminate between; distinguish: a researcher who separated the various ethnic components of the population sample.

b. To cause to be distinct or different: His natural talent separates him from all the others in the choir.

To remove from a mixture or combination; isolate.
To cause (one person) to stop living with another, or to cause (a couple) to stop living together, often by decree: She was separated from her husband last year. The couple have been separated for a year.
To terminate a contractual relationship with (someone); discharge.
verb
intransitive
To come apart; become detached: The lining has separated from the inside of the coat.
To withdraw or break away: The state threatened to separate from the Union.
To part company; go away from each other; disperse: The friends separated at the end of the school year.
To stop living together as a couple: They separated after 10 years of marriage.
To become divided into components or parts: Oil and water tend to separate.
adjective
Not touching or adjoined; detached: The garage is separate from the house.

a. Existing or considered as an independent entity: The reference collection is separate from the rest of the library.

b. Dissimilar from all others; distinct or individual: a cable made of many separate fibers; two people who hold separate views on the issue.

c. often Separate Having undergone schism or estrangement from a parent body: Separate churches.
noun
Something that is separate or distinct, especially:
a. A garment, such as a skirt, jacket, or pair of slacks, that may be purchased separately and worn in various combinations with other garments.
b. A stereo component that is purchased separately and connected to other components as part of a system.
c. An offprint of an article.
Origin of separate
Middle English
separaten
from
Latin
sēparātus
past participle of
sēparāre
sē-
apart
; see
s(w)e-
in Indo-European roots.
parāre
to prepare
; see
perə-
1
in Indo-European roots.
Related Forms:
---
separate

Adjective
(not comparable)
Apart from (the rest); not connected to or attached to (anything else).

This chair can be disassembled into five separate pieces.
Verb
(third-person singular simple present separates, present participle separating, simple past and past participle separated)
To divide (a thing) into separate parts.

Separate the articles from the headings.

To disunite something from one thing; To disconnect.
To cause (things or people) to be separate.

If the kids get too noisy, separate them for a few minutes.

(intransitive) To divide itself into separate pieces or substances.

The sauce will separate if you don't keep stirring.
Noun
(plural separates)
(usually in the plural) Anything that is sold by itself, especially an article of clothing.
Usage notes
The spelling is separate. *Seperate is a common misspelling.
Origin
From Latin separatus, perfect passive participle of separare ("separate"), from sepire, saepire ("enclose, hedge in").
---